Join us for the Ready or Not Kansas City Advance Screening!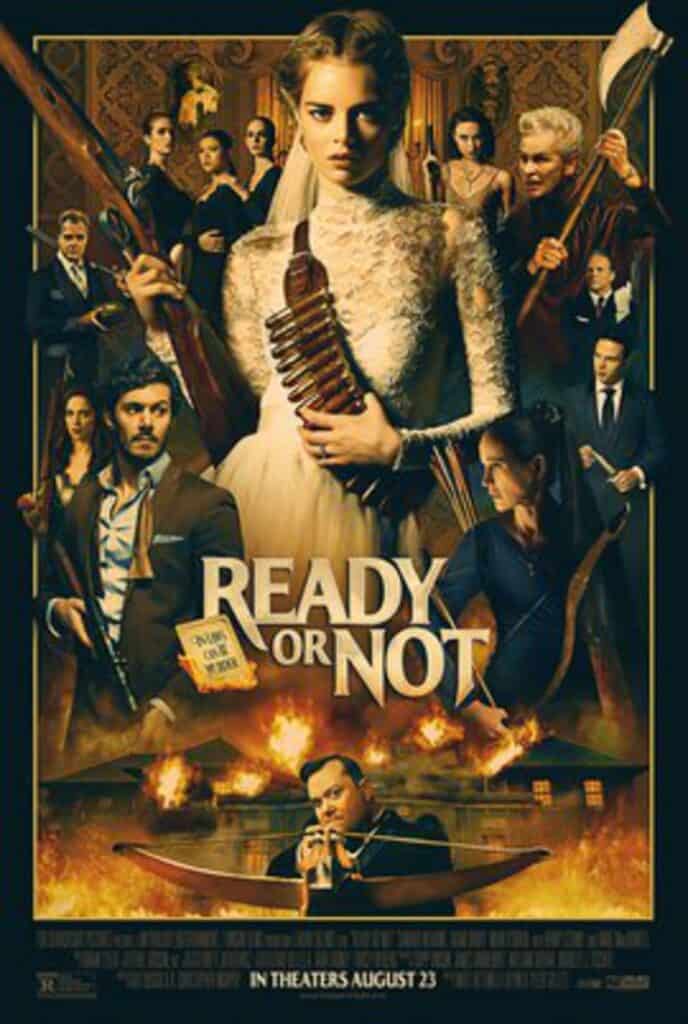 READY OR NOT follows a young bride (Samara Weaving) as she joins her new husband's (Mark O'Brien) rich, eccentric family (Adam Brody, Henry Czerny, Andie MacDowell) in a time-honored tradition that turns into a lethal game with everyone fighting for their survival.
Ready or Not Review
By Myla Tosatto
Are you a lover of horror movies? Are you unable to go to these types of movies because you have a friend/partner/parent/ who is horribly afraid of them? Do you have to sit home and let life pass you by while all of your friends are watching and enjoying a demonic doll, or a crazy nun, perhaps some video tapes of supposed poltergeist activity or a turn of the century witch/goat thing? Well, have I got a movie for them (and therefore you) – Ready or Not!
It is no secret that Movie Myla does not enjoy your run of the mill horror flick. Yes, Movie Myla is a big baby. I totally admit it. The trailer for Ready or Not made it look like a slasher/scary movie with just the right amount of cheek and humor. And for once, the trailer got it right!*
Grace (Samara Weaving) starts off in Ready or Not as a blushing bride on her wedding day. Well, Grace is less blushing and more feisty, but she looks very pretty as she smokes and cusses in her white bridal gown. She is heading into the wedding ceremony with a little trepidation from her groom Alex LeDomas (Mark O'Brien) and some kind words and encouragement from her future mother-in-law (Andie Mac Dowell) and future brother- in- law Daniel (Adam Brody). Is Grace ready for her wedding night? Better question is, are you? Ready or Not- you both have to survive it.
Grace must play a game to be initiated into Alex's wealthy family that includes his father (Henry Czerny), aunt (Nicky Guadagni), sister (Melanie Scrofano) and spouses. The game becomes deadly. Luckily for Grace, she has a wild card that makes her part of the game that much more interesting.
I hate to sound crass, but even as the body count went up I found this to be a delightful movie. You will probably enjoy this film if you like Stan vs. Evil (one of the writers of this movie writes for that show), Clue, Scream, Fright Night and Jennifer's Body. Although I am giving this movie an enthusiastic recommendation, please don't bring the kids. There is gore and killing and horror elements that are probably too much for them.
*Trailers are NEVER right or they give away the whole movie! Kudos to whoever cut these promos!
**NEW** Kansas City Exclusive E-mail List for Enza's Bargains
We had to start our e-mail list over from scratch.  Be sure you have subscribed again (if you were already on it).
If you are in KC and want me to e-mail you free movie passes, giveaways, and information on local entertainment please be sure to subscribe to my **NEW** e-mail!  Those who have subscribed get first dibs usually on tickets and giveaways! Subscribe HERE.  Now since you have subscribed, be sure to fill out the form for your official entry!