We loved the new Smurfs movie!  It was the best one yet!  If you are stumbling across this page, you have probably seen it and trying to remember some of the Smurfs: The Lost Village movie quotes.  We typed out our favorite lines from the movie!  If you have a quote you liked or one you think we need to edit, comment below and we will keep up with our list!  Be sure to also check out our review!
Smurfs: The Lost Village Movie Quotes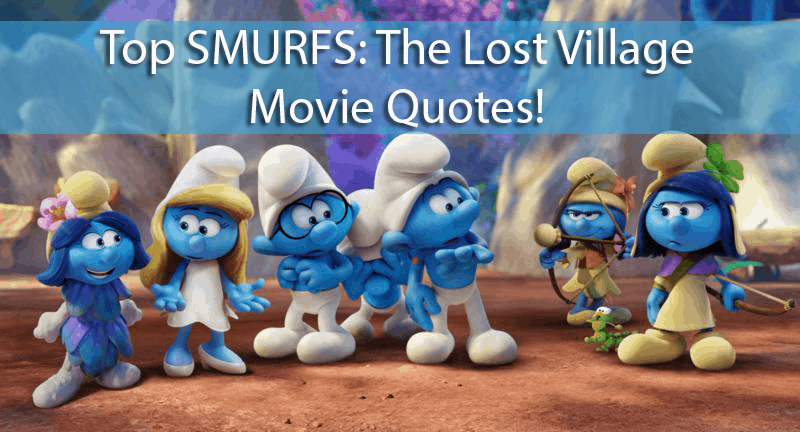 "There is a smurf for just about everything." –Narrator
"Smurfette is a combinations of a Smurf and an ette." –Narrator
"This machine wasn't built for a smurf of your origin." –Brainy Smurf
"We are going to need to disguise ourselves as babies. Where do I find a really large diaper." –Hefty Smurf
"Why are our legs so small?" –Clumsy
"Why are the bugs so big?" –Brainy
"Why are my muscles so big? –Hefty
"No matter how hard you try, you can't escape your destiny." –Gargomel
"We are Team Smurf and we stick together." –Hefty
"One small step, for four small smurfs." –Brainy
"I am walking into the darkness and I am really freaking out." –Brainy
"That's what I call talking out of your butt." –Hefty
"Have you seen anything so beautiful? –Smurfette
"Everyday, Smurfette. Every. Day." –Hefty
"Oh don't be weird." –Brainy
"I literally where my heart on my sleeve." –Hefty
"That is your arm." –Brainy
"I am going to show you my room You can tell me all about Gargasmell." –Blossom
"I am Smurf Willow, leader of the smurfs. This is called an introduction. –Willow
"It's time to rock the cage."—Papa
"Don't be weird." –Willow
"Smurfette can't be defined by just one thing, she is many." –Narrator.
About the movie!
In this fully animated, all-new take on the Smurfs, a mysterious map sets Smurfette and her best friends Brainy, Clumsy and Hefty on an exciting and thrilling race through the Forbidden Forest filled with magical creatures to find a mysterious lost village before the evil wizard Gargamel does. Embarking on a rollercoaster journey full of action and danger, the Smurfs are on a course that leads to the discovery of the biggest secret in Smurf history!
Smurfs: The Lost Village Trailer
Smurfs: The Lost Village will be in theaters April 2017!
Purchase discounted tickets by using Dealflicks.com! Feel free to save an additional 20% by using the code RFGGTRFLUF at checkout!