Star Wars BB-8 Theme Food – Grilled Cheese Sandwich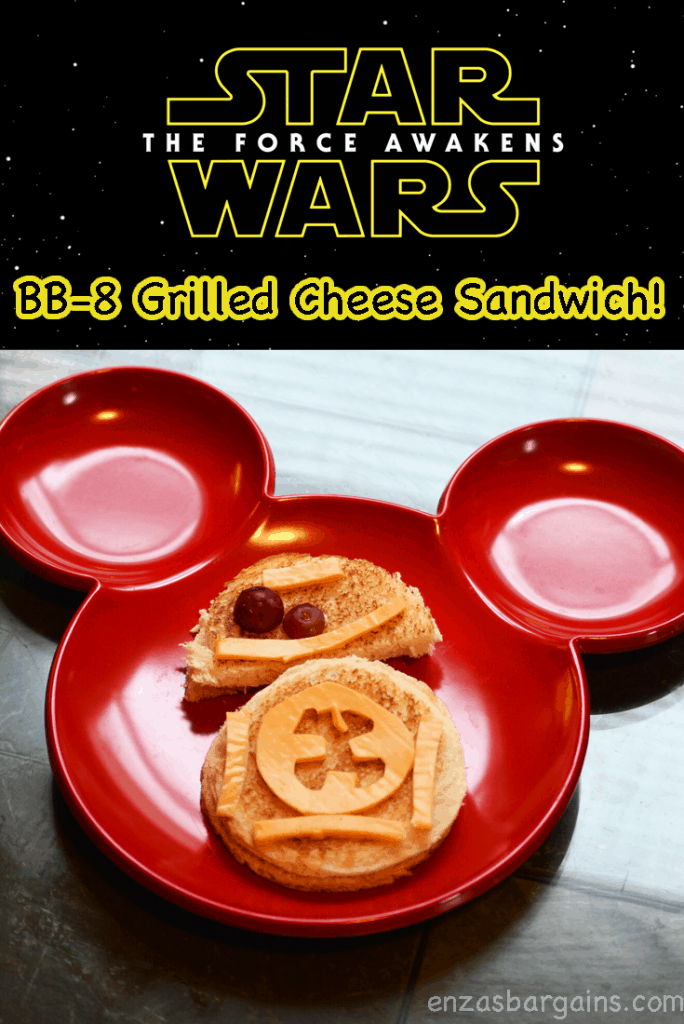 I have two picky eaters at home and I know that using our Mickey Plates and creatively displaying food always gets them eating their food! I had a great idea to make them BB-8 Grilled cheese sandwiches! BB-8 is the NEW character that was just teased for the new Star Wars Force Awakens! So here is what you need to create your own BB-8 Theme Food – BB-8 Grilled Cheese!
This food is inspired from this guy, where fans were able to take a look during Star Wars instagram post:
You will need:
White Bread
American Cheese
Two Round Cookie Cutters (I used an ice-cream bowl, so be creative with glasses, mugs, or anything round.)
Red Grapes or Black Olives
1. You will want 3 slices of break for each BB-8 Grilled Cheese!
First Cut 3 Round Circles!
2. Cut one of the circles in half for BB-8's head.
3. Over a skillet melt some butter on medium. Then quickly get one side of each slice of break buttery. I like to place the bread in the melted butter really quickly and then remove it.
4. Cook the grilled cheese (body) and head like any good 'ol Grilled Cheese Sandwich. Remove it but be sure to watch it carefully because you want it to be on the lighter color.
5. Then use another cheese slice and cut strips and circles. I use a toothpick or a knife to create the embellishments! If you were really particular you can always print off a picture of BB7 and place wax paper over it, then a piece of cheese, and you can trace it and cut it out with a toothpick!
Ta Da! Your Star Wars kids will LOVE eating their BB-8 Sandwich! ENJOY!
About "Star Wars: The Force Awakens"
Lucasfilm and visionary director J.J. Abrams join forces to take you back again to a galaxy far, far away as "Star Wars" returns to the big screen with "Star Wars: The Force Awakens."

The film stars Harrison Ford, Mark Hamill, Carrie Fisher, Adam Driver, Daisy Ridley, John Boyega, Oscar Isaac, Lupita Nyong'o, Andy Serkis, Domhnall Gleeson, Anthony Daniels, Peter Mayhew and Max Von Sydow. Kathleen Kennedy, J.J. Abrams and Bryan Burk are producing with Tommy Harper and Jason McGatlin serving as executive producers. The screenplay is by J.J. Abrams & Lawrence Kasdan. "Star Wars: The Force Awakens" releases in U.S. theaters on December 18, 2015.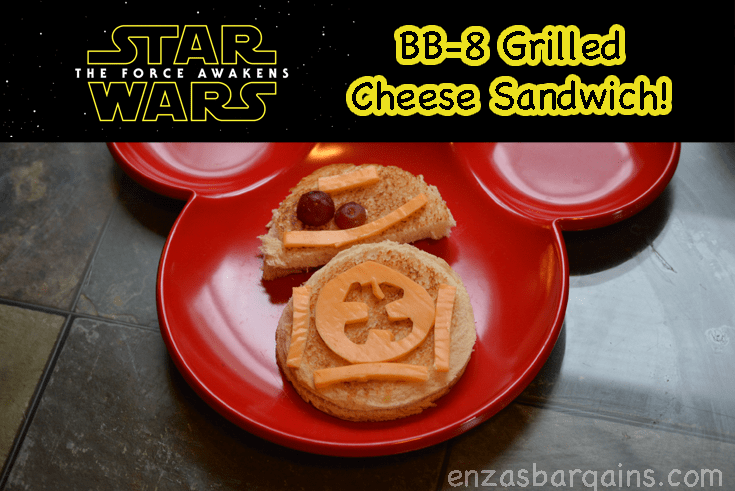 For dessert – Check out the Stormtrooper Cupcakes! YUMMY!