You know I LOVE movie quotes! Myla and I have BOTH seen the film and we have written our favorite lines from the new Episode VII Star Wars movies! Here is our huge list of Star Wars: The Last Jedi Quotes! If you are stumbling across this post it is probably because you have seen the movie and trying to remember some of the iconic lines.  You can also check out our Force Awakes quotes! Whether you are looking for Rose quotes one ones from Luke, Kylo, Rey, Snoke…etc., we hope to have them!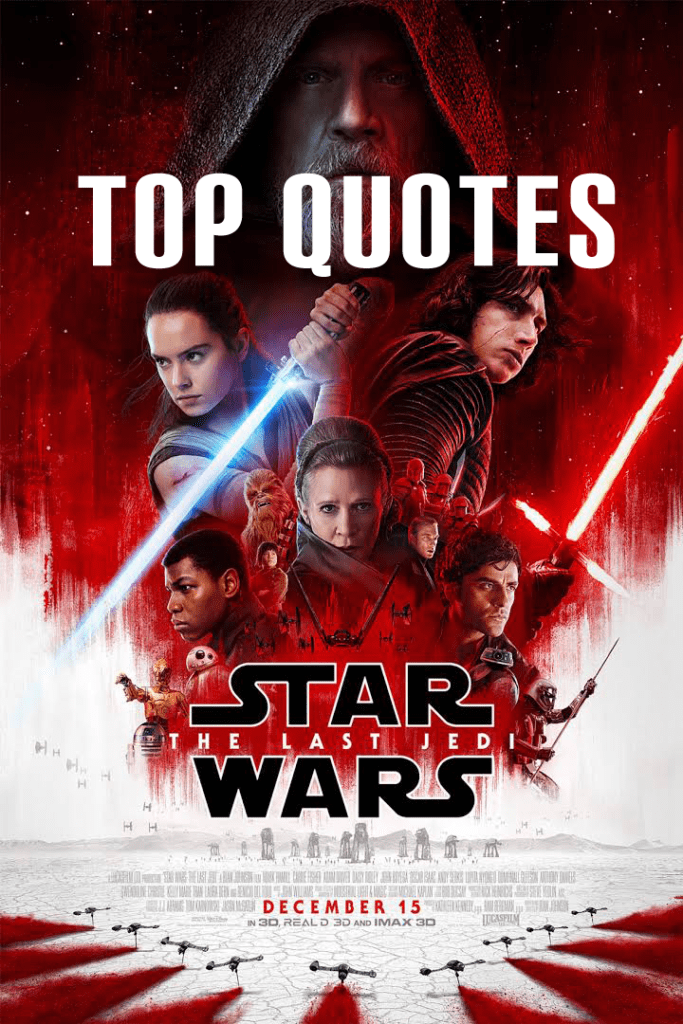 By reading our list of our favorite The Last Jedi Quotes, you are probably going to come across a few spoilers if you have not seen the film. STOP READING NOW…I would NEVER want you to accidentally read a line from the movie and then ruin your experience of any film. Be sure to also check out Myla's Star Wars review!
The lines from the movie were so good, I totally started digging for my notebook to write them down, just for myself and to keep adding to this list later.  (I have a few more to add so be sure to bookmark this page and comment with your favorite quotes!)
**RIP Carrie Fisher. Loved seeing her face in this film.**
Star Wars: The Last Jedi Quotes
"Just for the record, Captain, I'm with the droid on this one."- General Leia Organa (Carrie Fisher) to Poe Dameron (Oscar Isaac)
"Wipe that nervous expression off your face, C-3PO."- Leia
"They cannot get away, Supreme Leader. We have them tied to the end of a string."- General Hux (Domhnall Gleeson)
"Finn naked leaking bad?"- Poe questioning BB-8
"Master Skywalker, I'm from the Resistance. Your sister Leia sent me. We need your help."- Rey (Daisy Ridley)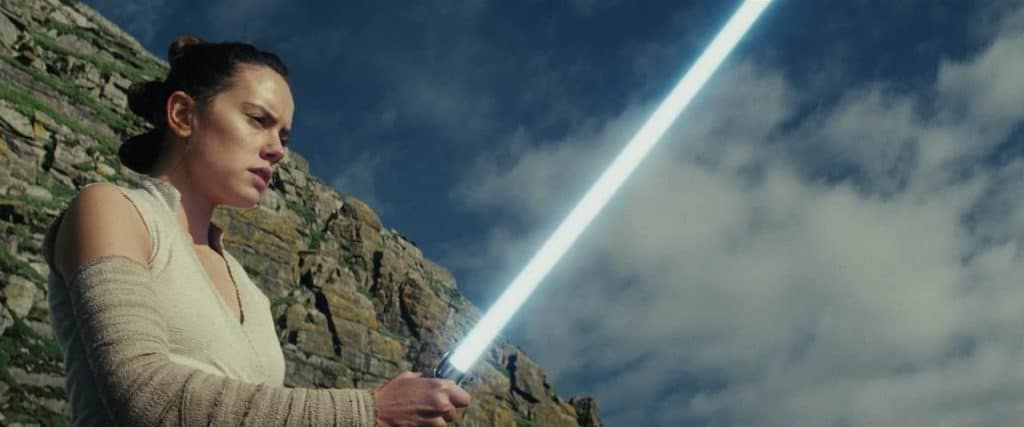 "Go away."- Luke Skywalker (Mark Hamill) to Rey and Chewbacca
"Weakness properly manipulated can be a sharp tool."- Supreme Leader Snoke (Andy Serkis)
"You are no Vader. You're just a child in a mask." – Snoke
"I gave everything I had to you- to the Darkside."- Kylo Ren (Adam Driver)
"Skywalker lives. The seed of the Jedi lives. As long as he does, hope exists."- Snoke
"There's no light left in Kylo Ren."- Rey to Luke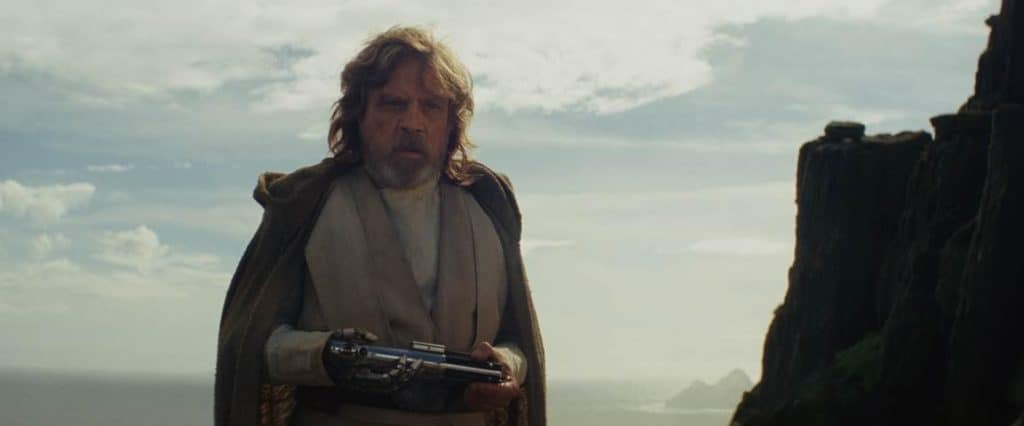 "We need Luke Skywalker."- Rey
"You don't need Luke Skywalker."- Luke
"I know this place."- Rey about a sacred Jedi area
"Why are you here, Rey from nowhere?"- Luke
"The resistance sent me."- Rey
"I will never teach another Jedi. I came to this island to die. The time of the Jedi must end."- Luke
"Poe, get your head out of your cockpit."- Leia
"Permission to jump in an X-Wing and blow something up?"- Poe
"Permission granted."- Leia
"Old friend, I wish I could make you understand but I'm not coming back. Nothing can change my mind."- Luke to R2-D2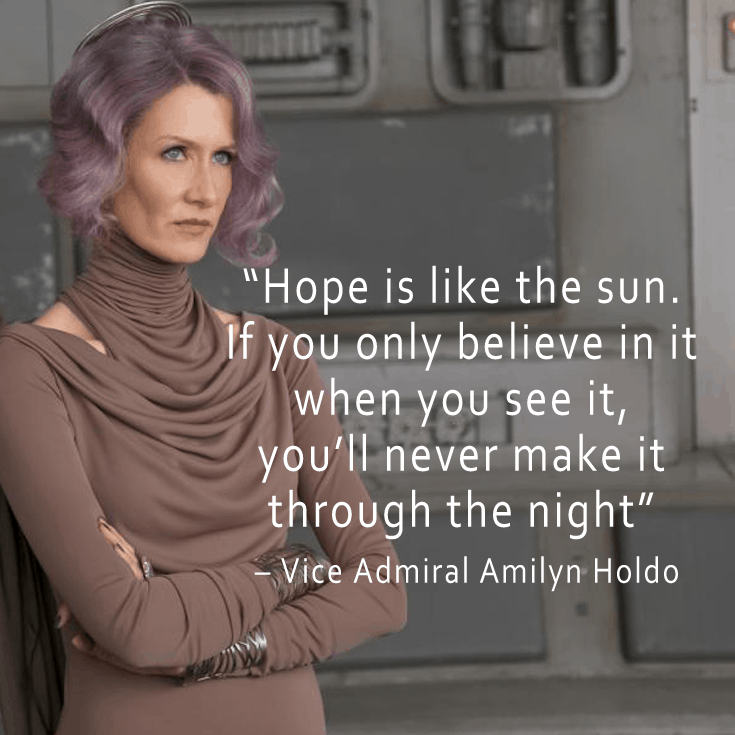 "…and now to your stations and may the Force be with us."- Vice Admiral Amilyn Holdo (Laura Dern)
"Captain, Commander, you can call me whatever you like."- Poe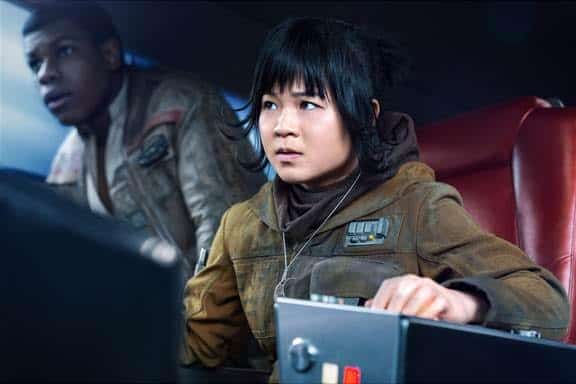 "Finn. THE Finn."- Rose Tico (Kelly Marie Tran)
"The Finn?"- Finn (John Boyega)
"Can you see my surroundings? I can't see yours. Only you. This is something else. . ."- Kylo Ren to Rey
"What do you know about the Force?"- Luke to Rey
"The Force is not a power you have."- Luke to Rey
"You've closed yourself off from the Force."- Rey to Luke
"Why is the Force connecting us?"- Kylo Ren to Rey
"You are a monster."- Rey
"Yes I am."- Kylo Ren
"Han was Han about it, but Leia trusted me with her son."- Luke
"The galaxy may need a legend. I need someone to show me my place in all this."- Rey
"You didn't fail Kylo. Kylo failed you."- Rey to Luke
"Don't let the wrapper fool you."- DJ (Benicio Del Toro)
"What's your story, Roundy?"- DJ to BB-8
"I didn't hate him."- Ben speaking about his father
"He sensed my power as he senses yours and he feared it."- Kylo Ren to Rey
"Let the past die. Kill it if you have to."- Kylo Ren to Rey
"If I go to him, Ben Solo will turn."- Rey
"Then he's our last hope."- Rey about Kylo Ren
"Oh, Skywalker, missed you I have."- Yoda
"The greatest teacher, failure is."- Yoda
"If you see Finn before I do. . ."- Rey
Wookie noises- Chewbacca (Peter Mayhew)
"Perfect. Tell him that."- Rey
"A Stormtrooper and a who now are doing what?"- Vice Admiral Holdo
"You don't have to do this. I feel the conflict in you. It's tearing you apart."- Rey to Kylo Ren
"My faith in you is restored."- Snoke to Kylo Ren
"Sir, I'm almost afraid to ask."- C-3PO (Anthony Daniels)
"Good instinct, 3PO, go with that."- Poe
"Darkness rises and light to meet it."- Snoke
"You underestimate Luke Skywalker, Ben Solo, and me."- Rey to Snoke
"For you, all is lost."- Snoke to Rey
"Whew! I like this!"- Rey about flying the Millennium Falcon
"That is a big gun."- Rose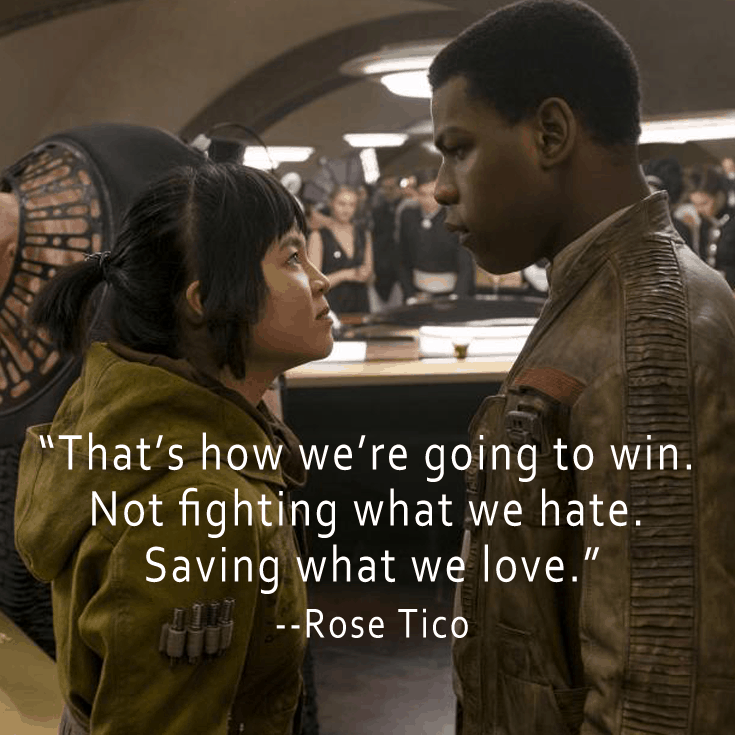 "That's how we're going to win. Not fighting what we hate. Saving what we love."- Rose to Finn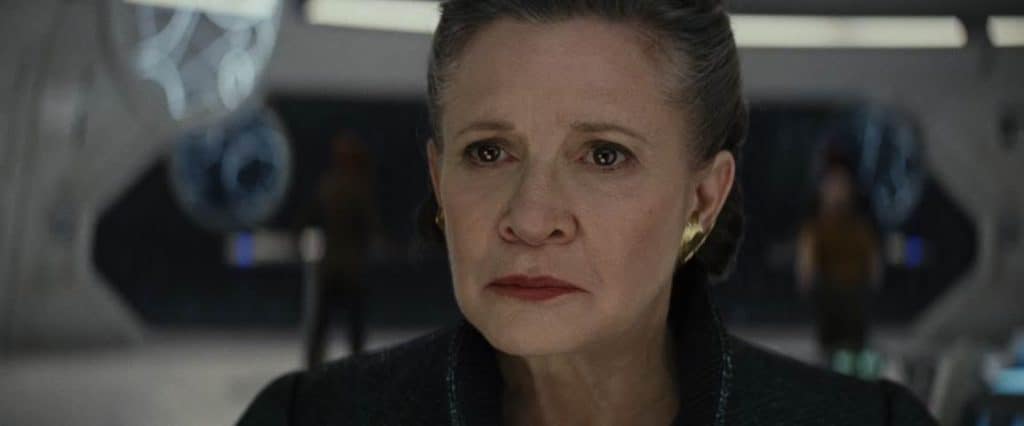 "We fought until the end but the galaxy lost all its hope. The spark is out."- Leia
"I'm just glad you're here. At the end."- Leia to Luke
"No one's really ever gone."- Luke to Leia
"I want every gun we have to fire on that man." -Kylo Ren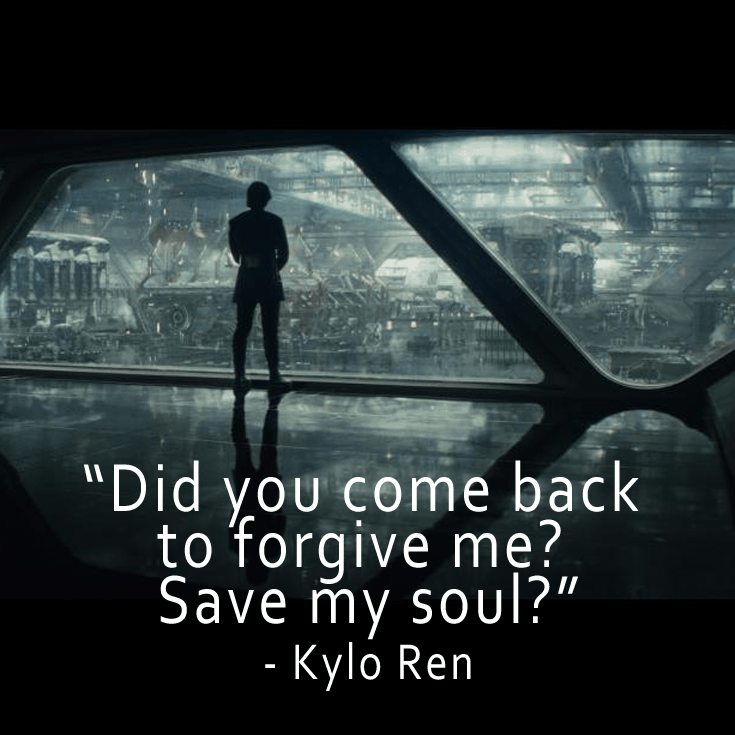 "Did you come back to forgive me? Save my soul?"- Kylo Ren
"No."- Luke
"Shut up."- Poe to C-3PO (Haven't we all wanted to say that to him?)
"The rebellion is reborn today. The war is just beginning and I will not be the last Jedi."- Luke
"……(spoiler) it wasn't sadness and pain in was peaceful and purpose." – Rey
You can order through our affiliate link the movie already and then you can know every single "The Last Jedi quotes" ever!