Be sure to go to the movies AND take your entire family to watch Warner Bros. newest movie Storks! The movie will have you laughing like crazy and we created our list of favorite Storks movie quotes! Our family loved the movie and you can read more of our Storks movie review here.
My kids were laughing so hard at the movie!  Toady had my 3 year old chuckling so loud that we were laughing at her as well!  Then my oldest daughter has been talking about the movie to her friends since the screening!  We got a Storks lunchbox that she takes to school now!
With the movie having so much humor and even one-liners we had to create a list of our favorite movie quotes!
Storks Movie Quotes

Narrator: Storks deliver packages from CornerStore.com.
"What? A million packages? I thought I was at 20." –Junior
"Coo Coo Coo Cool." –Junior
"There was no future in Baby Delivery." –Hunter
"Tulip is fine. Orphan hurts my heart." –Tulip
"How can my dreams go so horribly wrong?: –Chicken
"You're fantastic." –Junior
"Really? I just blew up the factory." –Tulip

"Ninja Force tell my wife I loved her." –Nate
"Where do you get one? Where did you get me? There is a super weird vibe in this car." –Nate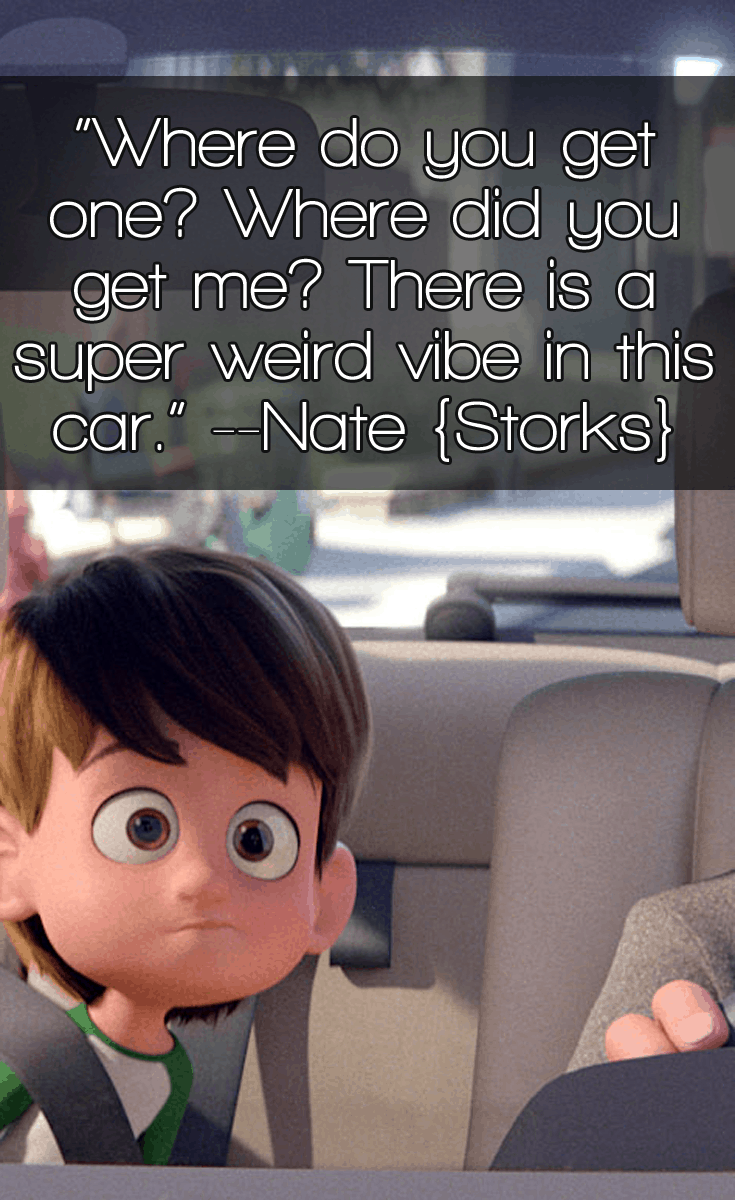 "P.S. He has to have ninja skills." –Nate
"I'm like your dad and you're like my son–my employee son." –Hunter
"What is that?" (Waaaaaaa) "Cool Beans" –Junior
"Whhaaaat up. Cool, bro." –Toady
"Wait a sec, there was no game last night." –Toady
"Make a plan. Stick to the plan. Always deliver." –Junior
"Do you know why I created an all glass office?" (Birds hit the glass.) "Power MOVE!" –Hunter
"What is that?" –Junior
"It's my dream to deliver packages to CornerStore.com."
"Hey there, kid. Now is your chance." –Junior
"You blink and I will be in college." –Nate
"Remember when I was a baby 2 minutes ago." –Nate
"You'll be my idol for like two more years." –Nate
"I guess the lesson we learned today is don't ask me why I want to be boss." –Junior
"The baby CRIES and you crash a plane!" –Junior
"It just sounds like wawawa mixed with crying. I can't hear what you are saying, but I assume it's lame." –Junior
"Oh great, I am surrounded by wolves. What are you going to do, knock me unconscious? GREAT." –Junior
"It tastes like flowers." –Wolf

"We won't go to them, we'll make them come to us." –Hunter
"When you orphaned me, you said whoops?" –Tulip
"When you said 'real family' it sorta hurt my feelings." –Junior
"It is okay, she is safe, she is with penguins." –Hunter

"My pants fell down. Oh No." –Tulip
"I did not think that through." –Junior
"This is my moment." –Toady

"We could go on like this all day, I'm just going to go ahead and destroy the baby factory!" –Hunter
"Sorry I kind of ruined the moment, we're a family!" –Junior
"Yo Stork." (baby kicks) "NINJA SKILLS!"
Watch the trailer below:
About Storks Movie
Storks deliver babies…or at least they used to. Now they deliver packages for global internet retail giant Cornerstore.com. Junior (Andy Samberg), the company's top delivery stork, is about to be promoted when the Baby Factory is accidentally activated on his watch, producing an adorable – and wholly unauthorized – baby girl.

Desperate to deliver this bundle of trouble before the boss gets wise, Junior and his friend Tulip, the only human on Stork Mountain, race to make their first-ever baby drop, in a wild and revealing journey that could make more than one family whole and restore the storks' true mission in the world.

The animated adventure "Storks" stars Andy Samberg ("Cloudy with a Chance of Meatballs," "Hotel Transylvania"), Katie Crown ("Clarence"), Kelsey Grammer ("Toy Story 2," "The Simpsons"), Jennifer Aniston ("We're the Millers," "Horrible Bosses"), Ty Burrell ("Finding Dory," "Modern Family"), Keegan-Michael Key ("The Angry Birds Movie," "Keanu," "Key & Peele"), Jordan Peele ("Keanu," "Key & Peele") and Danny Trejo ("The Book of Life," "Muppets Most Wanted").

The film was directed by Nicholas Stoller ("Neighbors," "Forgetting Sarah Marshall"; writer, "The Muppets") and Oscar nominee Doug Sweetland (the animated short "Presto"; supervising animator, "Cars"), from a screenplay written by Stoller.

"Storks" was produced by Brad Lewis (Academy Award-winning "Ratatouille," "Antz"; co-director, "Cars 2") and Nicholas Stoller. The executive producers are Glenn Ficarra, Phil Lord, Christopher Miller, John Requa and Jared Stern. The film is edited by John Venzon ("Shark Tale," "Chicken Run"). Music is composed by Mychael Danna ("The Good Dinosaur," Oscar winner, "Life of Pi") and Jeff Danna ("The Good Dinosaur"). Animation is by Sony Pictures Imageworks.

"Storks" features new songs "Kiss the Sky," performed by Jason Derulo, and "Holdin' Out," from The Lumineers.

From Warner Bros. Pictures and Warner Animation Group, "Storks" will screen in 2D, and in 3D in select theaters on September 23, 2016. It is distributed by Warner Bros. Pictures, a Warner Bros. Entertainment Company.

This film is rated PG for mild action and some thematic elements.
Storks is NOW playing in theaters! Be sure to check out our BEST movie deal by saving 20% on already reduced ticket prices with our UNIQUE code RFGGTRFLUF from Dealflicks.com.
Did we miss your favorite Storks movie quote? If so please comment below so we can continue our on going list!  Thank you for stopping by and don't forget to subscribe our newsletter if you like family entertainment and frugal living!