Sponsored Content.
I am so excited for summer with my girls!  The baby JUST finished her first year of preschool! She is learning numbers, writing, and more! I need to make sure I keep this summer educational! Summer learning is important to me! As a teacher I KNOW that the lack of classes and schools can really set kids and children back before the start of the following school year! So I thought that coming up a list of my own summer learning ideas and sharing them with all of you would be fun, educational, and useful!  I come up with my list every year. TODAY is the last day of school for my kids and they are already coming home with stuff to work on in the summer.
This summer is going to be super easy with ABC Mouse on my side! There are TWO offers! You can try the FIRST month FREE or the best offer is the 2 months for $5 (that is cheaper than most of those kid playing apps!)! Click on the appropriate banner below!

My kids love seeing the commercials on TV so this is a true sweet!
There is nothing I love more than having a schedule of activities to keep my girls busy in the summer! So I am first picking the subjects that I want to focus on for each kid and what type of summer learning activities I plan to start with! Since I teach computers, learning apps and using computers is important to me!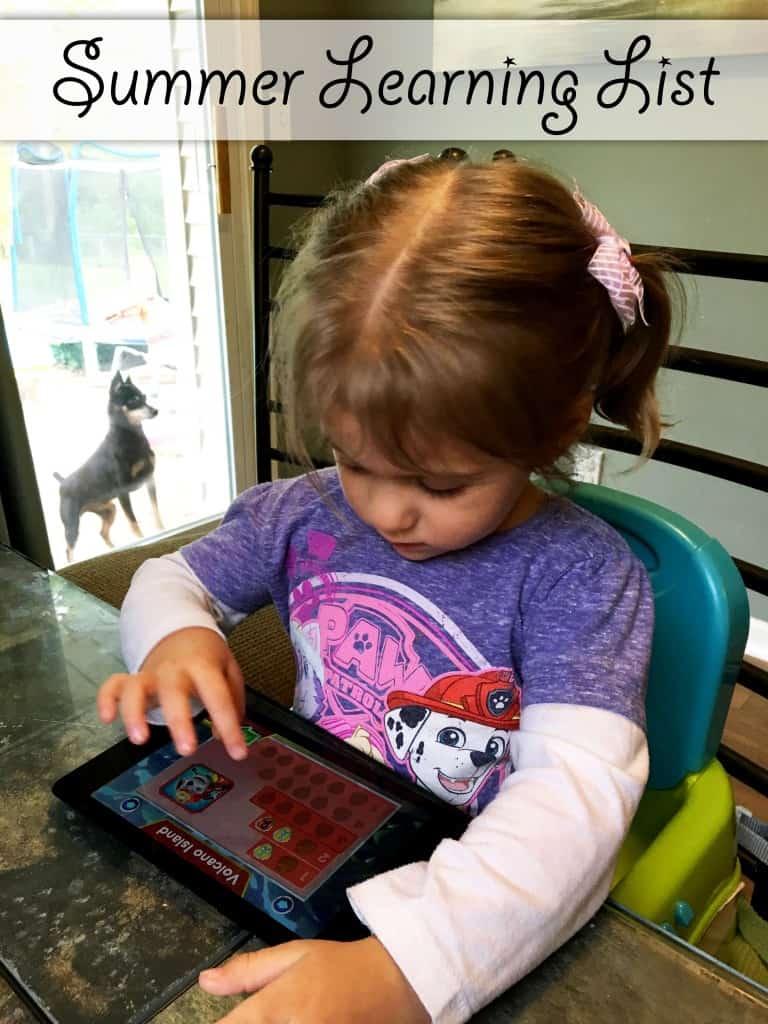 I am hoping this list helps also hold me accountable to keeping them focussed!
Summer Learning List
Summer Learning List for my 3rd Grader:
–ABC Mouse App – Allowing her to go through the ABC Mouse is great! My daughter is 7 and will be 8, but she has a blast with it and it keeps her busy and active!  My 3 year old already plays with the app and I plan to dig in a bit more to make sure we are utilizing all of the lessons!
–Reading – My oldest has been reading at a 5th grade level and she is just now about to enter the 3rd grade! MI am excited!  We can probably focus on spelling but I know that reading will help with this. So we will probably only do reading this summer.
–Math – I am going to look up some online math worksheets. I am definitely thinking we should start with some multiplication and division. I want it to be fun so I think using objects like legos will totally be worth it!
–Typing – I really want her to be able to focus on the home row keys and some typing tests. Being able to type fast is a huge time saver in education!
–Programming – I am looking into some coding classes with both of my girls! We do own a little coding robot from Best Buy that is so much fun to program and play with!
Summer Learning List for my Preschooler:
–ABC Mouse App – We are working on letters, numbers, and the alphabet! She is really into playing with this app! She loves playing on the tablet!
–Reading -y youngest and I are going to be working on sounds and this summer we have homework to read to her for 20 minutes a day!   Since she isn't reading yet, I want to focus on reading to her and also letting my 3rd grader read to her. She totally enjoys doing that so this would be fun. I want to be able to model follow up questions so that my oldest daughter will get ideas on how to do that as well! I am hoping to find some good stories with her on apps as well has some hard cover books.
–Handwriting: She is working on writing her letters.  We are going to practice our letters so that she gets better!  She loves to draw so we might work on that too!
–Math – We have to work on numbers! We found some dollar store flash cards for her awhile back so these will be what we will use.
–Puzzles – I am going to dig out some puzzles for her and get them out from time to time to work on them. This teaches a tad bit of problem solving!
While we are having fun learning and exploring our new ABC Mouse programs I will never forget that kids need to PLAY! So experiments, crafts, and field trips are definitely in our agenda!
About ABC Mouse

ABC Mouse is a step-by-step learning program with tons of levels, lessons, and learning activities! My kids and I just started using it. So far we are into the activities and I am ready to explore the different lessons. I love how my kids can explore on their own and I can log in from our desktop to check on their progress.
My kids love it and it is easy to switch between users!
Get your FIRST month free and sign up today! There is no obligation to trying it out!
So far, we have used and explored and my children have gotten through some of the early levels. They like it and have actually been playing with it unannounced over some of their other games when I give them tech time to play! This totally makes this momma happy!