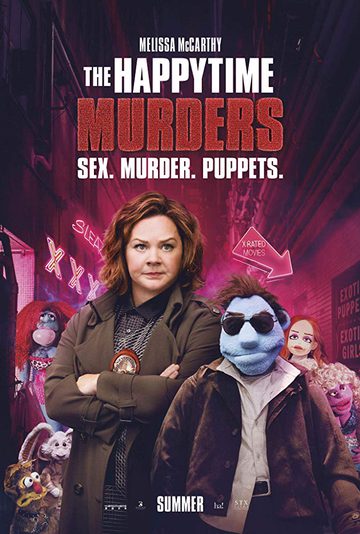 Oh my gosh! Here is a puppet movie, not for kids. Let me repeat a funny, crazy, dirty, rude, and rolling on the floor laughing while covering your face movie…not for kids. I am thrilled to share free admit 2 passes with all of you!
The Happytime Murders stars Melissa McCarthy and a bunch of naughty puppets! After watching the trailer I think this is one of those movies that I want to see and is up there with "Ted"!  I love STX movies and I do like Melissa McCarthy so why not?!
Watch the trailer before even thinking about possibly taking your kids to the movie. Instead take a BFF and/or a date!  enjoy yourself and be ready for some brainless laughter!  This movie looks like it was created strictly entertainment!
Wednesday, August 22nd at 7pm
B&B Overland Park 16
8601 W. 135th St.
Overland Park, KS 66223
If you are in KC and want me to e-mail you free movie passes, giveaways, and information on local entertainment please be sure to subscribe to my **NEW** e-mail!  Those who have subscribed get first dibs usually on tickets and giveaways! Subscribe HERE.  Now since you have subscribed, be sure to fill out the form for your official entry!