Sponsored.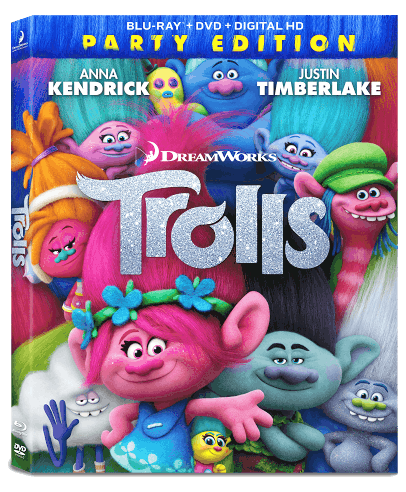 My family and I had a blast enjoying the new TROLLS movie! We laughed and danced! My daughter told me the next day that she had so much fun during our movie night! All I did was lay out tons of blankets and made some popcorn and turned down the lights, but she loved the movie and the family time together. Both girls enjoyed the movie and so did my husband and I! The music and vibrant colors had us dancing and enjoying a great story!
TROLLS is a movie that talks about finding happiness within.  It is a musical as well as a movie!  The leading characters have voices you will recognize and your kids will enjoy!
Here was my view of my girls enjoying their pizza and snack with some TROLLS!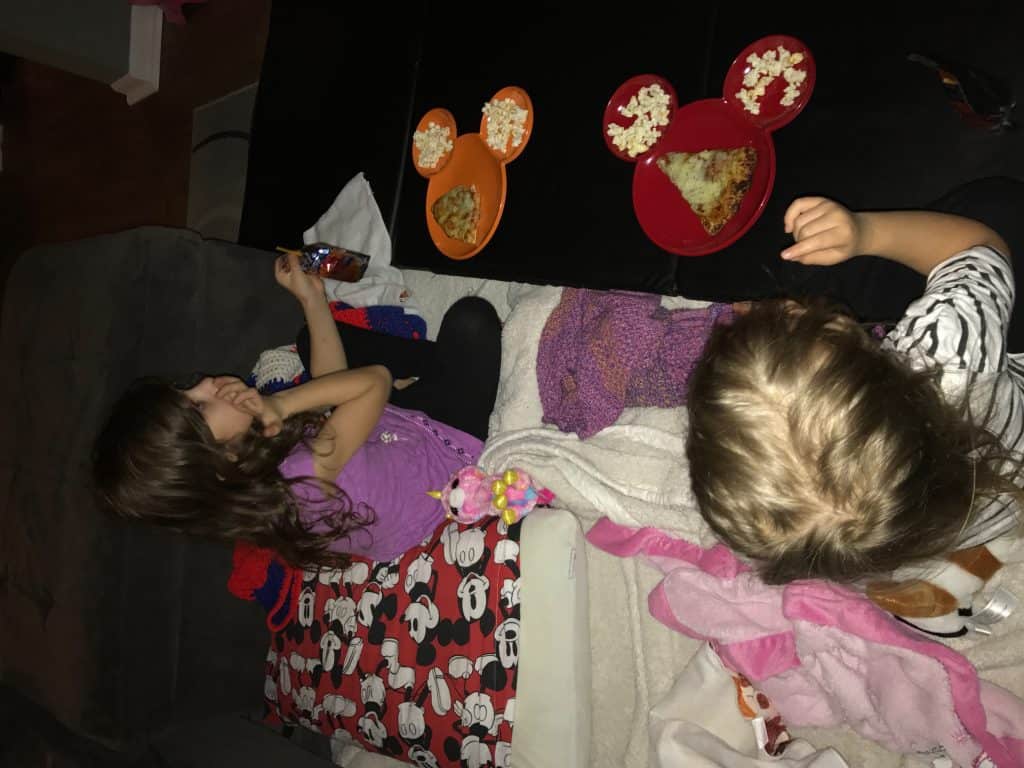 The special features of the DVD are great!
Party Mode – Sing, dance and laugh along with the Trolls in this engaging, interactive feature.*
*PLUS, only on Blu-ray: use your remote to conTROLL fun on-screen moments!
Travel Through Troll Village – Cloud Guy narrates a fun exploration of Troll Village.
The Potion for Stop-Motion – Part behind-the-scenes, part stop-motion tutorial, this featurette explores the process of creating Poppy's visually stunning scrapbook.
Creating Troll Magic – Trolls Production Designer Kendal Cronkhite-Shaindlin leads a kid-friendly exploration of her role as production designer on the film before highlighting four key stages of creating the animation with detailed visuals of each stage.
Troll 2 Troll – Poppy and Branch have a friendly debate on important topics such as "Cat vs. Dog." *
Inside the Bunker – An in-depth exploration of Branch's "special" place, narrated by Cloud Guy. *
Deleted Scenes with Intros by Director, Mike Mitchell and Co-Director, Walt Dohrn.
A hit with audiences and critics alike, DreamWorks Animation's TROLLS, is the "feel-good" movie of the year receiving an outstanding audience reaction with a coveted "A" CinemaScore® and a Certified Fresh rating on RottenTomatoes.com. DreamWorks TROLLS, the fresh, music-filled adventure packed with humor and heart dances onto Digital HD on Jan. 24 andBlu-ray™ and DVD on
Feb. 7 from Twentieth Century Fox Home Entertainment.

The colorful, richly textured Troll Village is full of optimistic Trolls, who are always ready to sing, dance and party. When the comically pessimistic Bergens invade, Poppy (Anna Kendrick), the happiestTroll ever born, and the overly-cautious, curmudgeonly Branch (Justin Timberlake) set off on an epic journey to rescue her friends. Their mission is full of adventure and mishaps, as this mismatched duo try to tolerate each other long enough to get the job done.
Trolls is now available on DVD/Blu-ray!  Be sure to purchase it today from Amazon.  Also, be sure to check out a list of our favorite TROLLS quotes from the movie!