Sponsored by our friends from Verizon and OM Media.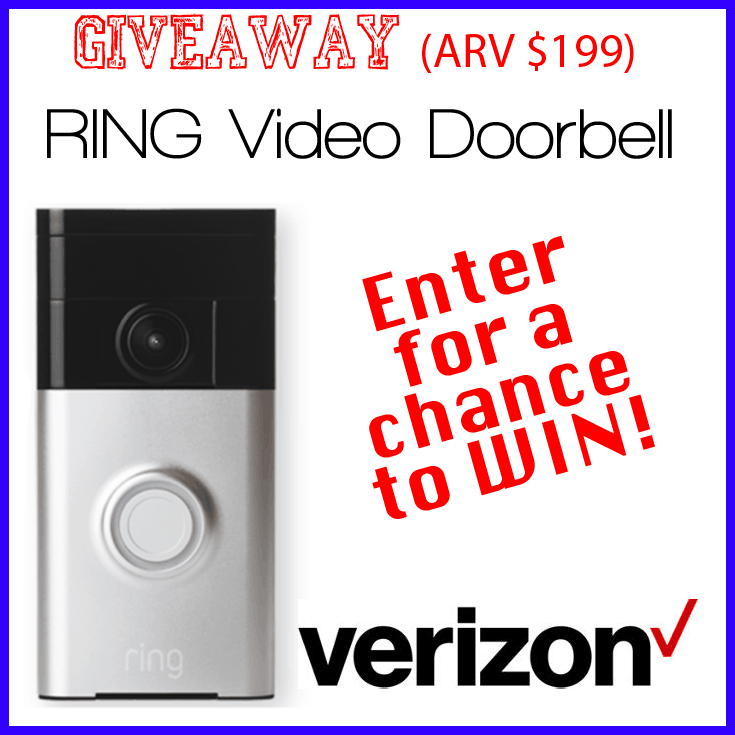 I am SO excited to share with you this new product from Verizon! They have a Ring Video Doorbell!  You no longer have to be sneaking through your side window to see who is at your front door! Just turn on your app and see who is there!
I am the WORSE when I am home alone.  If someone comes to my door, I won't answer it and I get super nervous.  My husband thinks I am crazy, but I always think the worse.  So the RING will help not only make you feel more safe, but also make it way more convenient to see who is at your door from anywhere in your home!
Another feature I am so excited about is that you can speak to the person at your door from anywhere in the world! They don't have to know that you aren't home!  "Hey Mr. UPS man, can you please leave that package at the front door, I can't get to my door at the moment."  GENIUS!
Verizon Ring Video Doorbell Features
Speak with whoever is at their door from anywhere in the
world with the built-in speakers and microphone.
Installs in 10 minutes, no professional help or special tools,
everything you need is in the box.
Weather-resistant design prevents damage by rain, sleet,
snow or heat.
Night vision captures motion and activity around-the-clock.
See and speak with visitors from anywhere using the free 

Ring App, receive motion alerts, and record footage.
I get to give ONE Ring Video Doorbell to one of our lucky readers!
Verizon Ring Video Doorbell Giveaway! (US ONLY, Must be 18 years or older, ONLY one entry per person max 2 per household.)
The form will load below this message:
a Rafflecopter giveaway
Check out more GREAT tech Giveaways!