As part of my trip to New York to cover the new ANNIE movie I had the opportunity to have an interview with Quvenzhanè Wallis, Jamie Foxx, and Will Gluck. Remember you heard about the new Annie, Quvenzhanè for the first time from me! Once your kids see this movie they are going to want to be her just like you might have wanted to be the old ANNIE when she first went to Mr. Warbucks house for the first time. When interviewing Cameron Diaz she said it was great to work with Quvenzhanè because she was a kid, a real kid, not some snooty professional kid actor (not in those exact words). After meeting her and seeing how adorable and sweet she was in person, I know exactly where Cameron was coming from!
While being in this interview room with these amazing people it was such a fun and neat experience. Jamie Foxx ended up putting Quvenzhanè in the hot seat and asked her questions. Will Gluck (director) did the same thing. The relationship that Quvenzhanè had with Jamie (not only in the movie) during this interview was adorable. They laughed and teased each other. Even Jamie whispered in her ear as she was answering a question that we asked. He also filled her with lots of compliments as they seriously joked about the possibility of her creating an album one day.
As for Jamie Foxx, I always thought he was good looking, but was he GOOD LOOKING! Being able to have him right in front of me as we hung out and discussed the movie was great. He is so talented and you totally get to see him sing some amazing songs in the film!
Here are some of the Interview questions with Quvenzhanè Wallis, Jamie Foxx, and Will Gluck Questions and Answers:
How does it feel to be able to remake a classic?
Will Gluck: We always get these questions and when you make the movie, you don't feel it at all. It is always afterwards when people ask you that. What we wanted to do is keep it connected with us. In the original Annie…it is about optimism and hope, never giving up, and finding your place in life and family. That is the feeling we wanted to take and connect with, with great music, and make it our own. As long as we kept those touch tones we felt like we can go off that.
Jamie Foxx: I just thought it was the right time.
During the interview Jamie Foxx turns the table around and decides he is going to ask interview questions and ask Quvenzhané if she is ready for this?!
She answers with, "it is really exciting and makes me feel really happy!" Jamiee then ask her to talk about where she is from and how it feels to have this whole new world opening up in front of her. "I am from Louisiana and before I was doing acting I was going to school. I was on the A/B honor roll. I am STILL on the A/B honor roll trust me on that. Everything was going well and my mom asked me to go to auditions and everything started happening."
How did you like being on the Macy's Day parade float?
Then Jamie and Quvenzhané started going back and forth together on how he wasn't in the parade. Their relationship back and forth was absolutely adorable!
Do you have any more plans on doing more singing in your career?
And Quvenzhané answered that she would love too and Jamie interrupts with, "ALBUM"! Then Will asks her who her favorite singer is hinting to Foxx and she ignores the question.
**I had so much fun during this interview with Quvenzhanè Wallis, Jamie Foxx, and Will Gluck!  I hope you enjoyed my recap!**
If you have seen the movie check out the BEST 2014 Annie Movie quotes!
A Broadway classic that has delighted audiences for generations comes to the big screen with a new, contemporary vision in Columbia Pictures' comedy Annie. Director/Producer/Screenwriter Will Gluck teams with producers James Lassiter, Jada Pinkett Smith & Will Smith, Caleeb Pinkett, and Shawn "JAY Z" Carter, Laurence "Jay" Brown, and Tyran "Ty Ty" Smith with a modern telling that captures the magic of the classic characters and original show that won seven Tony Awards. Celia Costas and Alicia Emmrich serve as Executive Producers. The screenplay is by Will Gluck and Aline Brosh McKenna, based on the musical stage play "Annie," book by Thomas Meehan, music by Charles Strouse, lyrics by Martin Charnin, and on "Little Orphan Annie," © and ® Tribune Content Agency, LLC.

Academy Award® nominee Quvenzhané Wallis (Beasts of the Southern Wild) stars as Annie, a young, happy foster kid who's also tough enough to make her way on the streets of New York in 2014. Originally left by her parents as a baby with the promise that they'd be back for her someday, it's been a hard knock life ever since with her mean foster mom Miss Hannigan (Cameron Diaz). But everything's about to change when the hard-nosed tycoon and New York mayoral candidate Will Stacks (Jamie Foxx) – advised by his brilliant VP, Grace (Rose Byrne) and his shrewd and scheming campaign advisor, Guy (Bobby Cannavale) – makes a thinly-veiled campaign move and takes her in. Stacks believes he's her guardian angel, but Annie's self-assured nature and bright, sun-will-come-out-tomorrow outlook on life just might mean it's the other way around.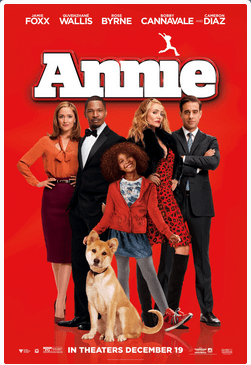 The new Annie Movie will be released in theaters on December 19, 2014! Take your family to see it! I would definitely take my 5 year old. There was one bad word in it but I think it would go over her head.
Be sure to checkout my to interviews that I had while in New York, one was with Cameron Diaz and Bobby Cannavale. The other interview was with Jamie Foxx, Will Gluck, and Quvenzhané Wallis.
I loved the movie!