The Baywatch movie was funny and witty! You don't have to have watched the TV series in order to enjoy this movie! Read Myla's Baywatch Review! If you are on this page you probably have a favorite line you are trying to remember from the film! Here is our list of favorite Baywatch movie quotes! Please let us know by commenting below if you have a favorite we didn't mention.
Baywatch Movie Quotes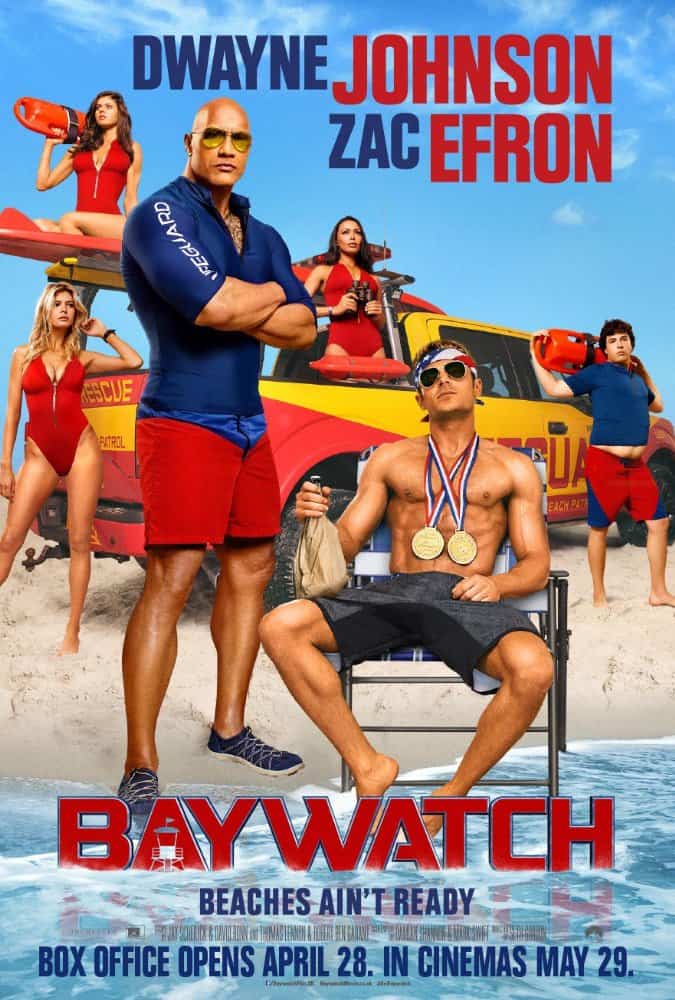 "Are you Batman?"- Injured beach goer
"Sure. Just bigger. And browner."- Mitch
"Did you have a stroke? It feels like you had a stroke."- Dave (Hannibal Buress)
"Where you from, One Direction?"- Mitch to Brody
"I get it. You're big, Sasquatch."- Brody to Mitch
"Brody was dubbed the Vomit Comet."- Sports Documentary
"Are you dyslexic?"- Sports TV host
"I'm Caucasian."- Brody
"Baywatch is the elite of the elite."- Mitch
"Hey, High School Musical…"- Mitch to Brody
"Such an accusation. I'm not a Bond villain. Yet."- Victoria Leeds (Priyanka Chopra)
"And you're gonna hear me roar…"- Ronnie
"You look really good, too, Baby Gap."- Mitch to Brody
"Where'd you learn to dance like that?"- CJ
"Hebrew school."- Ronnie
"These disguises are awesome. I actually feel like a doctor."- Brody
"It smells like yogurt."- Brody at the morgue
"Do not post that. The internet is forever. "- Brody
"You're like the Stephen Hawking of swimming."- Captain Thorpe to Brody
"I'm here to remind you of who you are."- Mitch (David Hasselfhoff) to Mitch
"Shoes? You're wearing worker man's shoes?"- Hasselfhoff
"Mitch, the bay needs you."- Hasselhoff
"Thank God you're pretty."- Ronnie to Brody
"If I were a man, you would call me driven."-Victoria
"That's good luck. Pick it up."- Mitch to Brody about a blown off body part
Purchase discounted tickets by using Dealflicks.com! Feel free to save an additional 20% by using the code RFGGTRFLUF at checkout!