Every July I turn 21 again for the 100th time! (Hurry do your math, how old does that make me?) It is okay, sometimes I act like I am 16! When it comes to earning free stuff and finding bargains, I do believe I am very mature in age!
I wrote up some of my favorite Birthday presents I received, but most of them came to my inbox! NOW the best Birthday gift was from my husband and my precious daughter! BUT my Birthday Bargains were increased majorly on my special day. I am not posting ALLLLL of them, but I will post some.
These freebies can change anytime. These are the ones I got from experience. If you know of any national freebies that you think I MUST add to the list be sure to use the contact tab on the side of the page and let me know!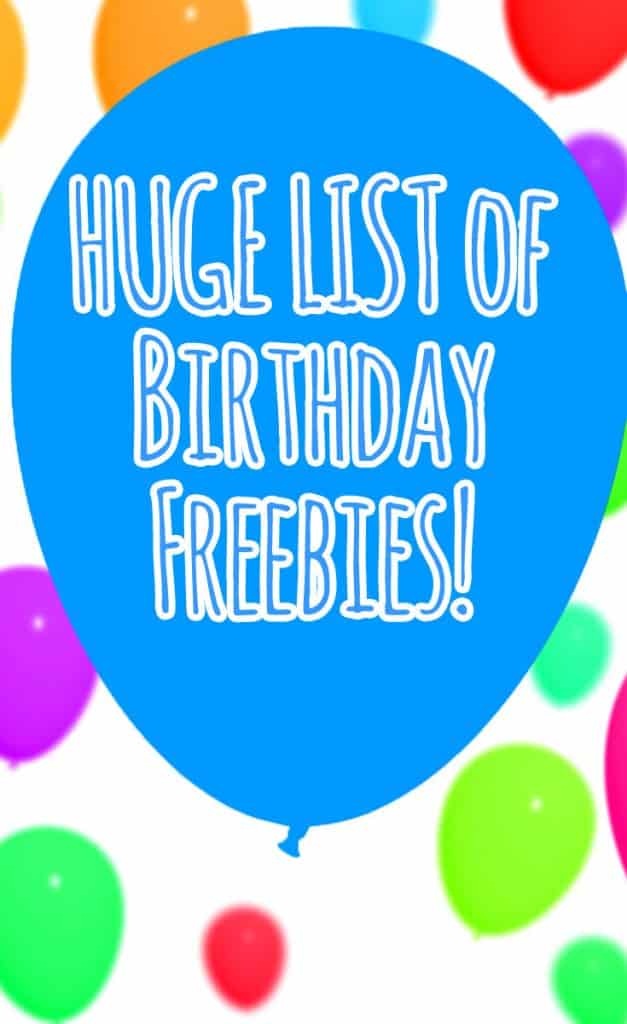 Birthday Freebies List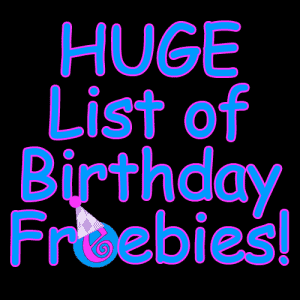 When it comes to getting freebies online a lot of companies have e-mail sign-ups where you can score freebies on your Birthday and/or Anniversaries! I compiled a LIST for you of all of the GREAT freebies you can score! Some of these freebies are time-sensitive and can change. This is the list that I know of from personal experience and readers' input. At the bottom of the list, you can send me your FAVORITE freebies that you think I should add!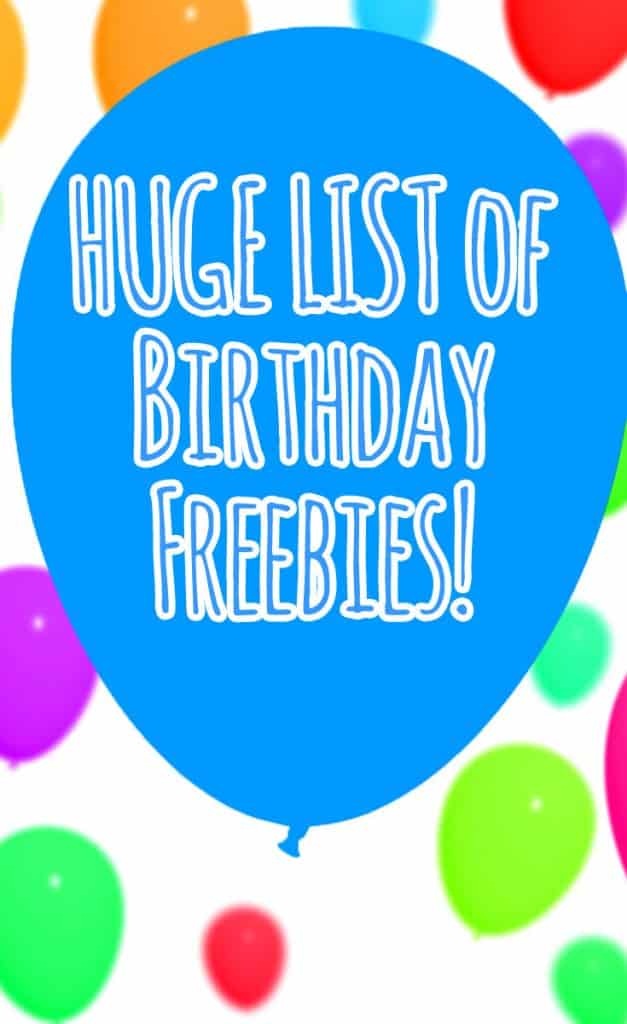 Birthday Freebies List
Red Robin FREE Burger (on your Bday and your KIDS):
***Sign up for Red Robin and get a FREE burger on your birthday! Also add your kids and they earn a FREE Birthday burger too!
FREE Dessert from Buffalo Wild Wings:
***Join the Buffalo Circle and get a FREE wings for the month of your birthday!
Texas Roadhouse FREE Appetizer or Ribs:
***Sign up with the Texas Roadhouse free appetizer or stack of ribs by joining their e-mail club today!
Ruby Tuesdays FREE Burger on your Birthday:
***Yes PLEASE! Get a FREE Burger or Garden Bar from Ruby Tuesdays on your Birthday when you join their So Connected Club!
Spaghetti Warehouse FREE Spaghetti Dinner and Dessert:
***Sign up with Spaghetti Warehouse by clicking Join the Club on their interactive website. (Also, a free appetizer when you join.
$10 off $10 to Victoria's Secret:
***How fun is it to go shopping for FREE around your Birthday! Sign up for their mailing list.
$5 off $5 Designer Shoe Warehouse:
***Do you LOVE Shoes! Get $5 off $5 Online or In stores. Sign up for DSW VIP Rewards Program today!
Famous Footwear $10 off $10:
***Famous Footwear Rewards program sent me a sweet reward for my birthday! They sent me a $10 off $10 purchase! They sell stuff at the store for under $10 as well! So happy shopping! Sign up with Famous Footwear Rewards Program!
FREE Meal at Rubios:
***When you sign up with Rubios you will get a FREE Taco. Plus on your birthday they will send you a FREE meal! Get these offers by signing up for the Beach Club!
Tony Roma's FREE Steak Meal:
***Join Tony Roma's Rib Expert Club. You will get a free meal sent to you a couple of weeks before your birthday!
Ulta Birthday (approx $20 Value):
***Go to the Ulta! If you are signed up for their Ulta Rewards (and easy Ulta app) on your Birthday you get a free gift. Different all the time. This time I got a free mascara, did a bit of shopping, and the ladies hooked me up with 2 other mascara samples!
Sephora:
They have two different birthday gifts to choose from. Just be sure you have signed up for their reward program (free), I got some great lip color!
Ben & Jerry's FREE Ice Cream:
***Who doesn't LOVE FREE Ice Cream! Join Ben & Jerry's Ice Cream Chuck Spelunker list and get freebies on your birthday and get invited to special events!
FREE Meal from Noodles & Company:
***Sign up with NOODLEGRAMS and get a FREE Meal on your birthday from Noodles & Company!
Black Angus FREE Steak Dinner:
***Just for signing up with the Black Angus Prime Club you will get a FREE Dessert! Then on your birthday, they send you a FREE Steak Dinner.
Local Hallmark Store FREE coupon:
***Become a Hallmark Crown member! My local Hallmark sent me a postcard with a freebie from their store! Go HERE and click "Join Now".
IHOP meal:
***Call me a breakfast junkie! I can eat breakfast food ANYTIME! My favorite place to eat is when I visit Chicago. There is a little place called the Pancake House downtown. Since I don't live in Chicago, I am totally fine with treating myself to the International House of Pancakes! Get started HERE and you will get a FREE meal today AND one on your birthday.
Panera FREE pastry:
***I love Panera! Get yourself a FREE Panera Card next time you are there and register it online! I don't go very often, but I have already scored some money off and some freebies! I did get a free dessert on my Birthday! Download their app.
Starbucks ANY FREE Drink:
***Get a Starbucks gift card and register your card online! You can earn free drinks! On my birthday I got a FREE drink of my choice! This was one of my favorite freebies that I actually utilized!!! I took my dear daughter to Starbucks and she loves drinking out of cups and straws and is obsessed with ice. We each had our own drink. Then she was treated to a sweet little pink sprinkled donut! The total cost was about $1, but I used the free gift card I earned. Also, check out all the ways to save money at save money at Starbucks.
Baskin Robins:
***Click HERE to sign up! This year they sent me $3.50 off a cake. Not as good as the free scoop they use to send. This freebie will come in your inbox.
50 Bday Swag bucks:
***You know I love swag bucks. I use it as my search engine every day and have the toolbar installed! On your birthday you get 50 Swag Bucks! Since a $5 Amazon gift card is only 450 swag bucks, you are basically getting $1 to Amazon for free and for doing nothing except get old. Get started HERE.
AMC FREE Large Soft Drink!
***I love my movie deals!!! LOVE THEM! I haven't paid full price for a movie in a really long time! I have a Stubs card and a regular movie watcher card. They sent me free popcorn! If you read my blog be sure to purchase the great movie offers that come up!
Chili's:
***Free dessert. Sign up HERE.
Disney Movie Rewards
***For years I have calculated and saved Disney points along with diaper and soda points! On your Birthday you will be e-mailed 100 points!
FREE Blizzard from Dairy Queen
***Sign up HERE
Cold Stone Creamery
***Get a free BOGO on your birthday! Sign up for email offers.
Burnt End BBQ
***Burnt End BBQ gives you a complimentary regular BBQ sandwich. Install their app.
Houlihans
***Houlihans will give you a free meal up to a certain amount on your birthday when you sign up for their email club. You also get $10 off for joining!
Nothing Bundt Cake
***Nothing Bundt Cake gives you a free little bundt cake on your birthday when you join their e-club.
*************Please e-mail me any more Birthday Freebies that you know of that you think definitely need to be added to the list. Thank you in advance!*************