So you have seen Disney•Pixar's COCO movie and you are looking for your favorite COCO quotes. We went to see the movie multiple times already and here are OUR favorite lines from the movie. We are headed to the movie again today so we will be sure to share any other quotes we might have missed. This is our ongoing list of lines from COCO. If you have a favorite we missed please comment below so we can add it to our list! We loved the movie and we bet you did too!
COCO Quotes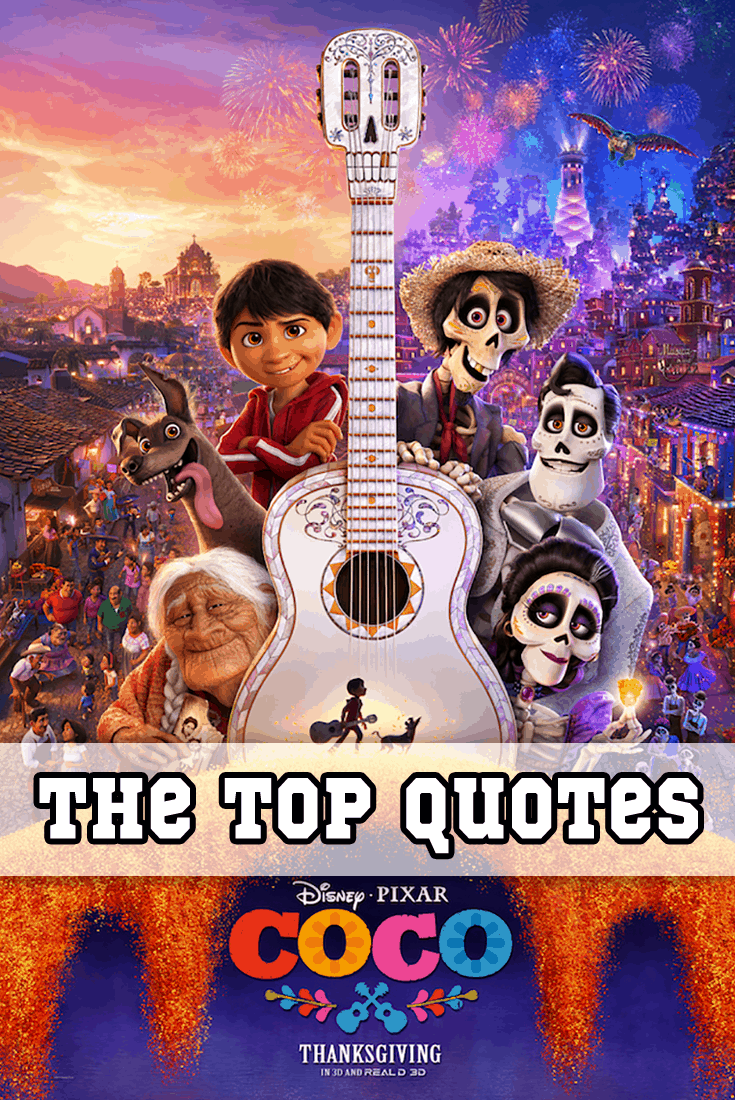 "Music tore her family apart. Shoes brought them together." –Miguel (Anthony Gonzalez)
"Sometimes I look at Ernesto de La Cruz and I feel like we are connected." –Miguel
"Seize your moment." – Ernesto De La Cruz (Benjamin Brat)
"I know your secrets, Mariachi." -Abuelita (Renee Victor)
"I found your son at mariachi plaza." Abuelita
"Being a part of this family means you are here for THIS family." –Abuelita

"My Papati will never listen." – De La Cruz's girlfriend
"He will listen, he will listen to music." –De La Cruz
"I think it is one of those made up things adults tell kids, like vitamins." – Miguel
"Our memories have to be passed down." – Hector (Gael García Bernal)
"You're not a spirit guide. You're just a dumb dog." –Miguel
"That is what families are supposed to do, support you. But you never will." –Miguel

"It has been an honor. I hope you die real soon."
"Success doesn't come for free. You have to do whatever it takes to seize your moment." – Ernesto De La Cruz

"You don't' have to forgive him, but we shouldn't forget him." -Miguel

Disney•Pixar's "Coco" is now playing in theaters!.
In Disney•Pixar's "Coco," aspiring musician and young boy named Miguel (voice of Anthony Gonzalez) teams up with charming trickster and new friend named Héctor (voice of Gael García Bernal) on an extraordinary journey through the Land of the Dead.
This movie is about family, tradition, love, and remembrance! It is an amazing movie you won't want to miss and you will want to take your family to see it this Thanksgiving!
Find a special 20 minute short prior to COCO called "Olaf's Frozen Adventures." Exclusively playing prior to COCO in theaters everywhere!