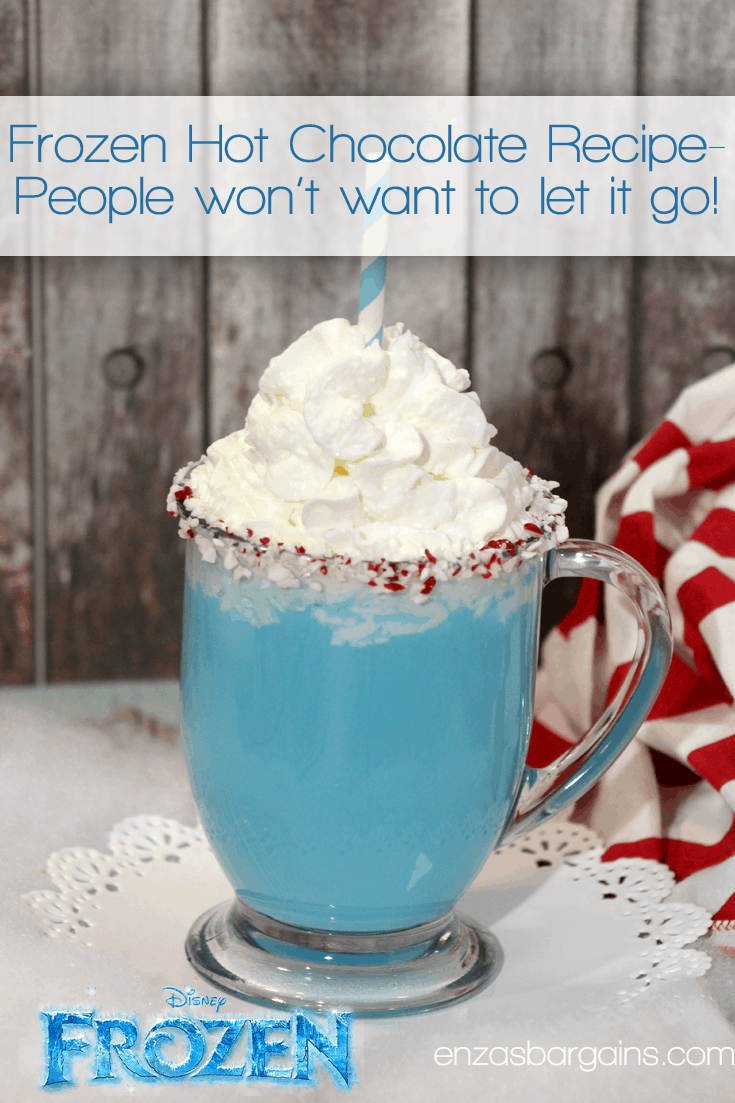 We all love Disney and Frozen. We also love Hot Chocolate, especially blue Hot Chocolate. Your kids' faces will light up when they see the chocolate is blue and Frozen-themed! Be sure to have your kids help you and pop in the movie for a fun movie night! This post has affiliate links.
Want to make this later? REPIN this for later!
As many of you know I LOVE movies and Disney so this recipe is by far my favorite! If you decide to make this recipe we LOVE pictures! Take some pictures and show me! Here are some really cute clear mugs to go with your recipe!
This theme is also great for a theme-inspired party! This hot chocolate is served hot! YUMMY!
We also make this matching blue fudge!
Frozen Blue Hot Chocolate
(makes 5 cups)
Ingredients:
4 C whole milk
1 tsp. vanilla extract
1 C Ghirardelli white chocolate wafers, cut into small pieces
whip cream
Several drops of blue gel food coloring
Whip cream
corn syrup
crushed candy
Directions:
-Combine milk, vanilla, and white chocolate in a medium saucepan, and stir to mix.
-Heat the white chocolate hot chocolate on medium-low heat, stirring occasionally, until it comes to a simmer. (Do not let it come to a boil.)
-Take off the heat.
-Stir in the blue gel food coloring.
-Pour some corn syrup onto a plate.
-Put the crushed candy canes into a deep bowl.
-Dip your hot cocoa cup into the corn syrup plate.
-Automatically dip the same cup into the bowl of candy cane sprinkles.
-Carefully pour the hot cocoa into the cup.
-Top with whip cream.
Want to make this later? REPIN this for later!