Our Elf, Sparkle, left a nice little book on my oldest daughter's bed!  Tomorrow (Day After Thanksgiving) she is already waiting for both girls to wake up!  I will be sharing Sparkle's adventures as we go!  Until then be sure to READ tons of Elf ideas below!!  Sparkle left both of the girls a note and a snow flake!  She is waiting right above the sliding back door!  She had to find a way in our house! 🙂
Flying HIGH with Helium Balloons!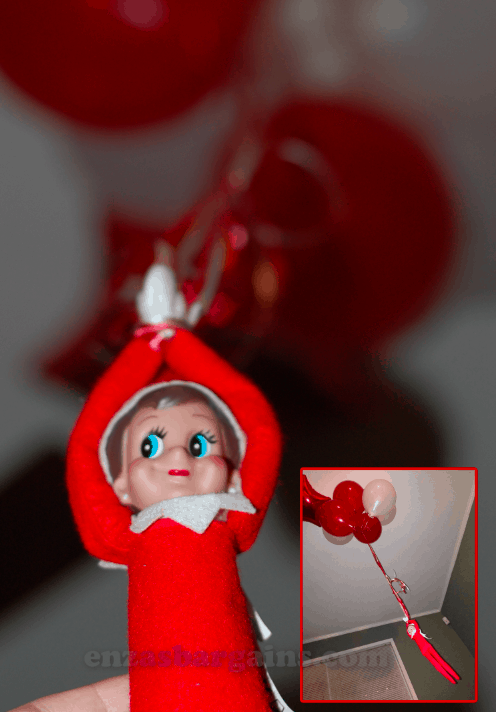 Sparkle the Elf Santa Suit was REALLY a wine bottle cover and it fit PERFECT!  It was ONLY $3 at CVS!  SCORE!

Playing Dress Up!

Elf Sticky Note LOVE!

Anything Marshmallows!

Use a twisty tie!

A letter from the North Pole!

Oh Elf likes to read & loves Baby Jesus!! 🙂


Styrofoam ball fun!  Silly Sparkle!!  

Elf is not only RIDING on My Little Pony BUT she has an Equestria Girl on her back! 🙂

We LOVE Bows! Elf tried to hide in a few of the bows LUCKILY we found her! 😉 😉

Idea for every Sunday or Bowl game!  Sparkle helped us win today!

Elf riding a horse!

Elf Time For a Check up!

Elf playing Operation!

Elf Gone Fishin'!

Elf on FACEBOOK with it's own ElfBook!  🙂


Part 1: Elf on the Shelf Ideas: HUGE LIST
Part 2: Elf on the Shelf Ideas: Part 2
Part 3: Elf on the Shelf Ideas! ***Part 3***
Part 4: Elf on the Shelf Ideas