I learned a lot during my press trip and our Felicity Jones interview.  She is beautiful, talented, smart, charming, and charismatic. That is what I witnessed from Felicity Jones during a movie junket in LA for "A Monster Calls"! Of course I already knew all of those things about her by following her career, doing my homework, and witnessing her role as a mother who is dying of cancer in the new Focus Features movie, A Monster Calls. When interviewing her with a small group of bloggers we wanted to get to know so much because of how amazing and deep the movie is! I was provided on an expense paid trip to review the film and interview Felicity Jones. It was an amazing trip and I am so humbled to share my experience with all of you!
Felicity Jones Interview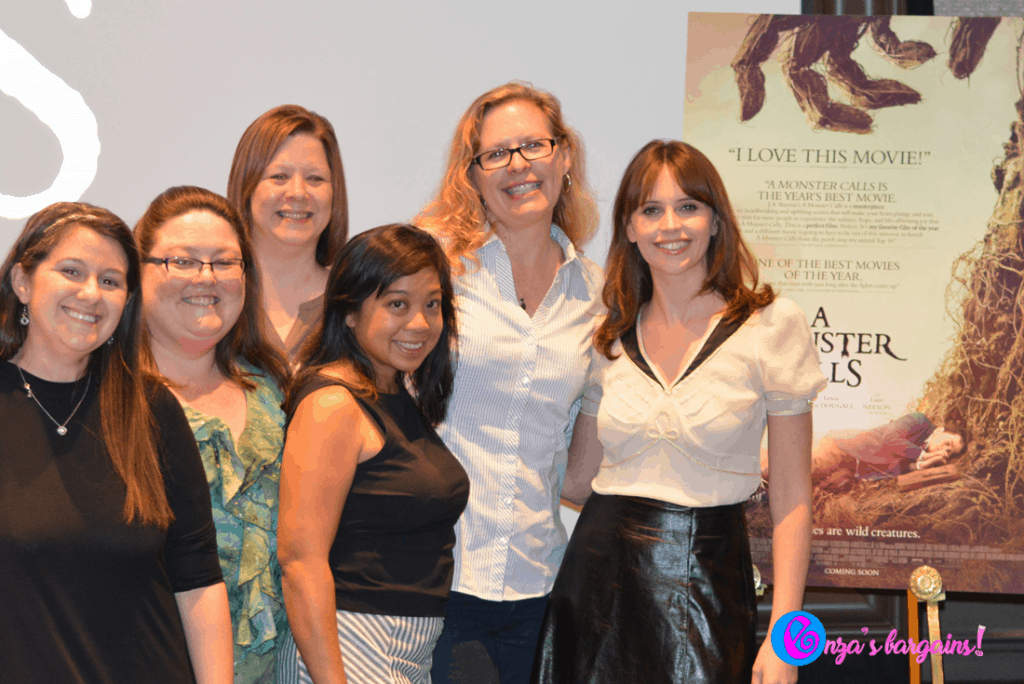 I learned so much from Felicity during our interview and her role in A Monster Calls. The chemistry between the characters in the movie, the difficult situation her character played, and the movie takeaways where all things that she shared with us during the interview! Be sure to also read my A Monster Calls review.  I came up with a list of 10 things that I learned about her role in A Monster Calls during our interview.
Here are at LEAST 10 Thinks I Learned During an Interview With Felicity Jones.
First time reading the script: "I actually read it when I was on holiday and I was on holiday with a couple of friends. And then I was so overwhelmed after I'd finished it, I had to-I said, "Just going to be two minutes," and then I sort of crept off and went into the sea and just like burst into tears. 'Cause it just hits you in that gut level, and I just thought, "Well, if-if the book can be that, then-then hopefully the film can, too."
About working with Lewis: "He's such a wonderful young actor. He takes it very seriously. He works incredibly hard, and he's really really bright. … you'd be sitting around a table, and he just always come out with the most kind of insightful, credible things and ideas about the character and the script."
How the movie felt real: "I was very close to both my parents, but I grew up with just my mother, and she was a single parent, and I guess some of that resonated when I was reading the script, and that sort of touched me, that side of it, that she, you know, in many ways, she's/they're kind of friends."
Type of movies Felicity Jones likes: "I like films where you either laugh your head off for a couple of hours or you-or you're in tears."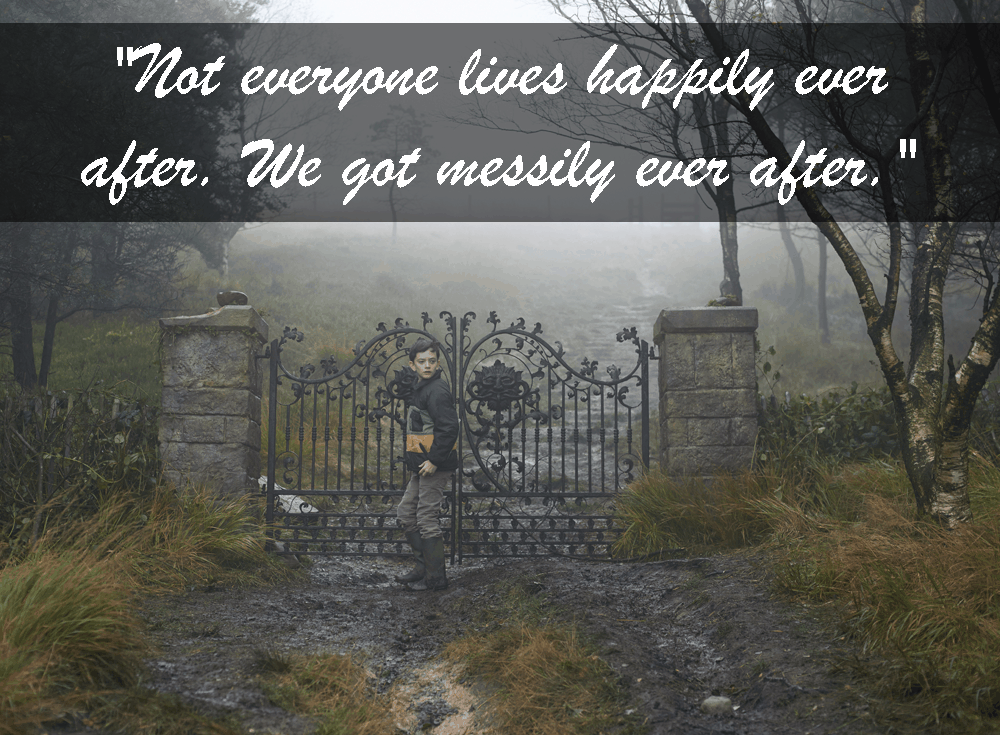 What she hopes people get out of the film: "I hope people think about it afterwards, and it stays in their heads…we all have seen films, and you've thought, "I'm going to do something differently, having seen them." And I think that would be, at its best, that way-that's what you'd hope for."
How to choose the role and her next movie: "…it depends on the character, and if I feel engaged by it. You know, you always know when you sit down and read a script, and you don't move, that it's something good. When it's not good, you just, you're like, making tea, or you're going "All right, ugh, I can't believe I've got to read this."
Doing research and preparing for the role: "I like to do a lot of research. I like to kind of get really stuck in and understanding what that person is going through, and so I met with women who had gone through…had cancer, and luckily had survived it, and I went and met them. I spoke to a woman , she was very open about the emotional side of it, as well as the kind of physical side of how chemotherapy affects every bit of your body.
So it was a very very open dialogue, and then I spoke to her doctor, and her oncologist about kind of specifics, the kind of medical facts of that. So, I just kind of attack it in every different direction and try and find the absolute honesty of that experience. But also at the same time, I found with these women who, you know, they just didn't want to be defined by it, and it was constantly… The thing that appears is people just want to go back to being normal.
What her different roles all have in common: "In some ways they're all survivors."
When they weren't filming: "we were all in Manchester together, in England, and we went to see Guardians of the Galaxy. That was our cast outing -our family outing. Then, Lewis and I, we went to the zoo, which was rather fascinating.
Thoughts on "It is only important what we do and not what we think.": "You prove what you believe through your actions. But obviously the thoughts come first. I think particularly now, it's we're seeing that action is very important, and to stand up for what we believe in is very very important, and to voice those beliefs."
What she thinks of working with the director: "…really kind of loved filmmaking since he was a child. It's been something he's wanted to do his entire life, and I think that comes through.
About A Monster Calls
A visually spectacular and unabashedly emotional drama from director J.A. Bayona ("The Impossible"). 12-year-old Conor (Lewis MacDougall) is dealing with far more than other boys his age. His beloved and devoted mother (Felicity Jones) is ill. He has little in common with his imperious grandmother (Sigourney Weaver). His father (Toby Kebbell) has resettled thousands of miles away. But Conor finds a most unlikely ally when the Monster (portrayed by Liam Neeson in performance-capture and voiceover) appears at his bedroom window one night. Ancient, wild, and relentless, the Monster guides Conor on a journey of courage, faith, and truth that powerfully fuses imagination and reality.
Also check out my 3 Great Benefits of a Book Being Turned Into A Movie!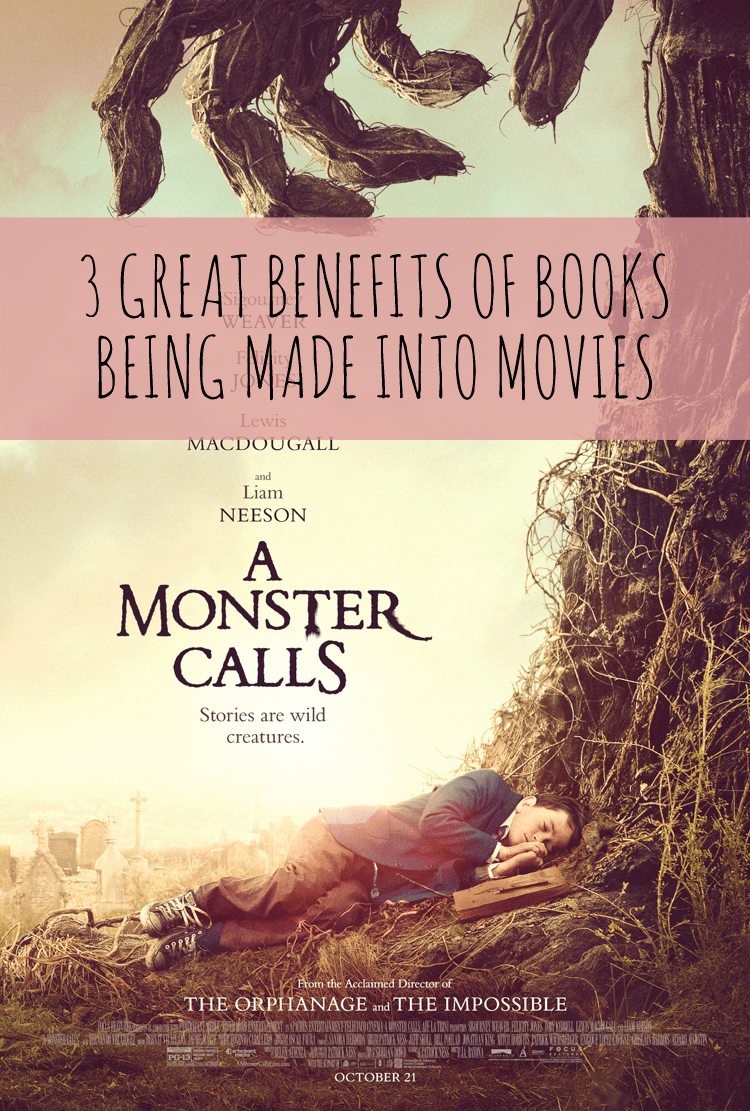 For more info:
Official Site I Facebook I Twitter I Instagram
#AMonsterCalls