Ferdinand Movie Review
Ferdinand is a beautiful movie that puts love over fighting. There is a lot to learn in this movie which is sometimes people do things that aren't right because they don't know any better. If you are thinking about taking your kids to see this film, there are a lot of teaching moments in it, a lot of comedy, and even some sad parts that my 4 year old recognized. It was easy to create a list of lessons in Ferdinand, so I did just choose my favorite ones below!
I always tell my friends that I try to judge a movie on how many bathroom breaks my kids ask to take during it. This lets me know how well it kept their attention. One bathroom break is usually acceptable because we fill up on drinks and popcorn. During this movie neither of my girls needed a break.  A true testament of the movie.
I also noticed the scenes in the movie were absolutely beautiful. The desert at the very beginning is amazing and during the rain scene the aerial view was amazing! It made the movie that much more enjoyable!
Lessons in Ferdinand
Ferdinand is a great leader in the movie. He wanted his world to be different then what everyone else thought it was like.
He teaches us to stop and smell the flowers.
He stands up for his friends because it is the right thing to do, even if it means costing his life.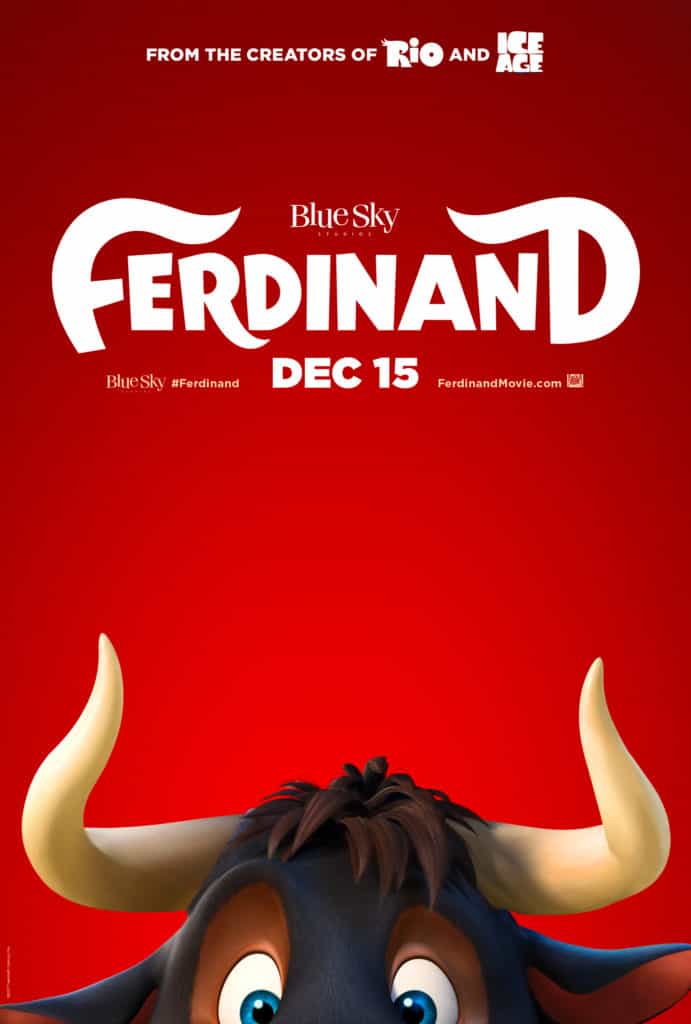 Ferdinand's cast includes: John Cena, Kate McKinnon, Anthony Anderson, Bobby Cannavale, Peyton Manning, Gina Rodriguez, Miguel Angel Silvestre, David Tennant,Flula Borg, Jerrod Carmichael, Daveed Diggs, Gabriel Iglesias, Juanes, Boris Kodjoe, Karla Martínez, Jeremy Sisto, Sally Phillips!
FERDINAND tells the story of a giant bull with a big heart. After being mistaken for a dangerous beast, he is captured and torn from his home. Determined to return to his family, he rallies a misfit team on the ultimate adventure. Set in Spain, Ferdinand proves you can't judge a bull by its cover. From Blue Sky Studios and Carlos Saldanha, the director of "Rio" and inspired by the beloved book "The Story of Ferdinand" by Munro Leaf and Robert Lawson, "Ferdinand" is a heartwarming animated comedy adventure with an all-star cast that includes John Cena, Kate McKinnon, Gina Rodriguez, Anthony Anderson and many more.
Enter for a chance to WIN a Ferdinand Prize Pack!  ENTER below:

Purchase discounted tickets by using Dealflicks.com! Feel free to save an additional 20% by using the code RFGGTRFLUF at checkout!