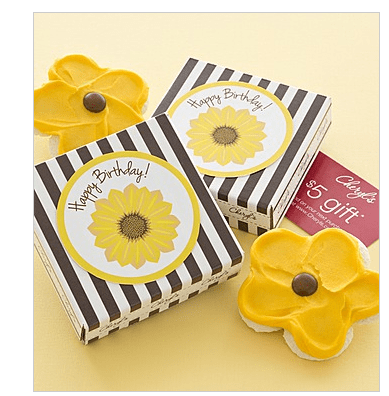 Right now you can score a FREE Cheryl's Cooke + $5.00 Gift Card & FREE Shipping!  I have actually been sent one of these cookies before and it totally made my day!  They are so easy and simple and definitely put a smile on my face.  It tasted very YUMMY too!  NOW I am ordering this cookie for sure, I plan to send it to someone special (they read my blog so I can say..)!  I missed this deal last time b/c I didn't know the minimum I would need to spend to cash out…guess what?! THERE IS NO MINIMUM to cash out…BUT tons of great deals below!
Here is how to get your free cookie!
1.  Sign up with Free TopCashBack with just your e-mail and password.
2.  Search 'Cheryls' into the Search Bar on TopCashBack.
3.  Click the 'Cashback' button next to the Cheryl's Exclusive $5.50 Cookie offer and you will be redirected to Cheryl's Cookies website.
4.  Click on $5 Cookie Cards on the left hand side of the site.  Choose one of the $5 cookies.
5.  Shipping is FREE and you can request the delivery date if you want to set it up for a future birthday, anniversary, or thank you!
6.  You will earn a total of $5 cash back on TopCashBack making your Cookie & $5 gift card FREE!!  If you ask me, it is totally worth the $5 even if you don't go through cash back to make it free!  (A $10 Value)
Total $5 – $5 cash back = FREE Cookie + FREE $5 Gift Card delivered when you want!

NOW YOU AREN'T DONE YET!!!  THERE are TONS more MONEY MAKERS LIVE TODAY!!  Here are more items I just scored!  YES My account is doing REALLY well and I love the freebies!
$2.30 MONEY MAKER AND FREE PLAY-DOH! –>UPDATE! FREE Play-Doh Plus 8-pack worth $4.99 ($2.30 MONEY MAKER)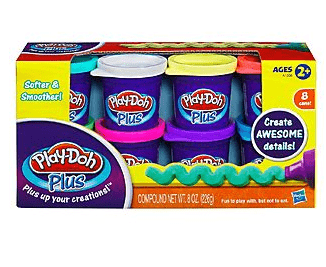 After you do this FREEBIE!  I did this one TOO!  FREE Just Kidz Sounds 'n Rattle Keys!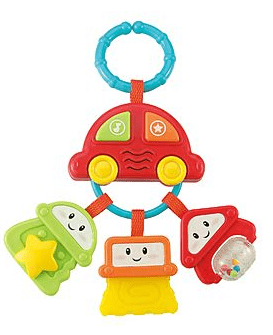 AND GET FREE HUGGIES WIPES!!!  –> **HOT** FREE Huggies Natural Care Baby Wipes (MONEY MAKER) + FREE SHIPPING!