Home Again Review
by Myla Tosatto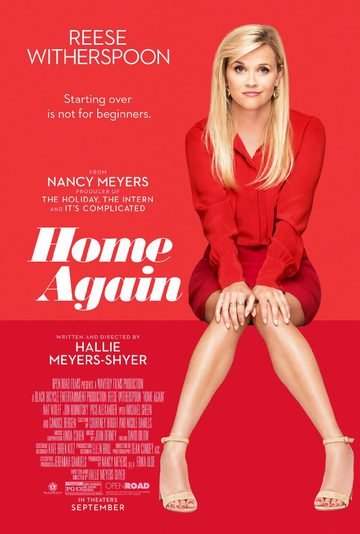 We see a lot of movies dealing with midlife crises. Men hit a certain age when they leave their wives for a younger version of her, buy a fancy new car and generally act like teenagers. For some reason this is a fantasy that appeals to male Hollywood; sometimes we even see the effects of the midlife crisis on the woman. We see her dealing with loneliness, raising the kids by herself and suddenly dealing with the whims of an infantile life partner. What we rarely see is the woman actually having a midlife crisis; that all changes with writer/director Hallie Meyers-Shyer's Home Again.
Of course we love also sharing our list of favorite Home Again Quotes!
This post may contain affiliate links.
Reese Witherspoon stars as Alice Kinney, a mom recently separated from her husband Austen (Michael Sheen). The catch here is that it is Alice's idea. Austen really hasn't done anything wrong. She just seems to have outgrown her marriage of fifteen years. She moves across the country with her two little girls Isabel (Lola Flanery) and Rosie (Eden grace Redfield) to make it as an interior designer or maybe just to start a new, more satisfying life. Through fate, and her mother Lillian (Candice Bergen), she gets three housemates: Harry (Pico Alexander), Teddy (Nat Wolff), and George (Jon Rudnitsky). This is perhaps a female Hollywood fantasy movie. Who doesn't want to be cute, have adorable kids and a loving ex that you can live peacefully with, live in a gorgeous California villa, all the while having three wonderful young men at your every beck and call? Alice pretty much has it all.
This would be a super movie to see with girlfriends or female relatives. My 81-year-old mother decreed it a "GREAT MOVIE!" with only 2 cuss words. Go to a movie, have some wine, and store up ideas to add to your Pinterest boards. Nancy Meyers (It's Complicated, The Holiday, Baby Boom) produced this movie for her daughter, Hallie Meyers- Shyer. And if Nancy Meyers has her hand in a movie, you know her kitchens are going to be stylized beyond belief.
HOME AGAIN stars Reese Witherspoon ("Big Little Lies," Wild, Walk The Line, Sweet Home Alabama) as Alice Kinney in a modern romantic comedy. Recently separated from her husband, (Michael Sheen), Alice decides to start over by moving back to her hometown of Los Angeles with her two young daughters. During a night out on her 40th birthday, Alice meets three aspiring filmmakers who happen to be in need of a place to live. Alice agrees to let the guys stay in her guest house temporarily, but the arrangement ends up unfolding in unexpected ways. Alice's unlikely new family and new romance comes to a crashing halt when her ex-husband shows up, suitcase in hand. HOME AGAIN is a story of love, friendship, and the families we create. And one very big life lesson: Starting over is not for beginners.
Sign up with Dealflicks and purchase discounted tickets and sometimes concessions! You can also refer your family members and get more of a discount! Then use code RFGGTRFLUF at checkout for 20% off your first purchase!