The Houghton Brothers are artists and storytellers. They are from Michigan and have worked together for ten years. Everything from making comics, participating in ComicCon, and now they just got signed for the second season of Big City Greens. Big City Greens is a new Disney animation that has yet to air on Disney. We had the privilege to screen the first couple of episodes and interview the brothers while in LA for the Incredibles 2 Press Junket. This post contains commission links if you choose to make a purchase from one of our links and suggestions we might make a small percentage.
About Houghton Brothers:
Shane and Chris are from St. John Michigan. They grew up with pigs, ducks, raccoons, and possums. When they moved to pursue their career they said that the big city was a "culture shock". In their story all of their characters are inspired by their family and friends. They said that their are parts of the cartoon that hold true to their childhood. Chris plays "Cricket" the main character in Big City Greens!
Episode 1 and 2:
The first episode we watched introduced all of the characters and they tried to make an impression after moving from a farm town to the city by launching a chicken into outer space. The show is awkward, funny, and most importantly very entertaining. It had a kid friendly Bobs Burger appeal with the animation, colors, and interesting character personalities. It was FAMILY appropriate though, so don't worry about that comparison.

We also screened the second episode "Steak Night" where the family saved up to have steak and had to a very unique subway experience!

About Big City Greens: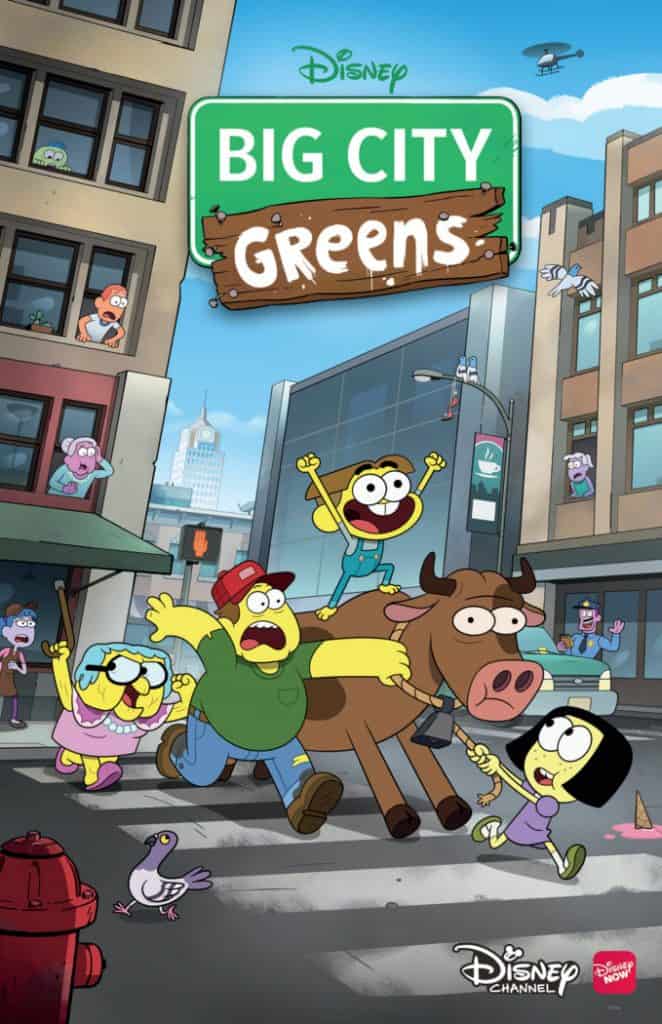 We learned a lot when interviewing the Houghton Brothers! There was a lot of personal experiences that go into creating each episode. Their family is proud of what they do and they even discussed family veto rights. 🙂 They explained that there are no one to one parallels and only inspiration.
In Big City Greens the dad is a single father living with his mother. The kids are pulled into the big city and are really the odd balls of the city! They are in a huge culture shock themselves.
When asking them about what type of lessons do we see from the shows, they shared that each episode has some type of simple message that they like to make clear toward the end and that each message is different.
Big City Greens premieres on Disney Channel on Monday, June 18th at 9:30am EST! 
You can actually catch episode 1 and 2 on youtube today!  We are watching youtube on our TV with my family today!  Watch the trailer below:
ABOUT Disney Offices:
The office that we screened Big City Greens is amazing! I wanted to share some of their amazing wallpaper and pictures I took while visiting! Check out the amazing wallpaper and wall timeline of cartoons!



This post is part of a series from our Incredibles 2 Press Junket trip.  It was a Pixar and Disney related press trip that focussed on the new biggest anticipated animated movie, Incredibles 2!  Check out the trailer below and don't forget to order your tickets below!
 Be sure to mark your calendar since Incredibles 2 will be in theaters JUNE 15th!
Get your tickets now.