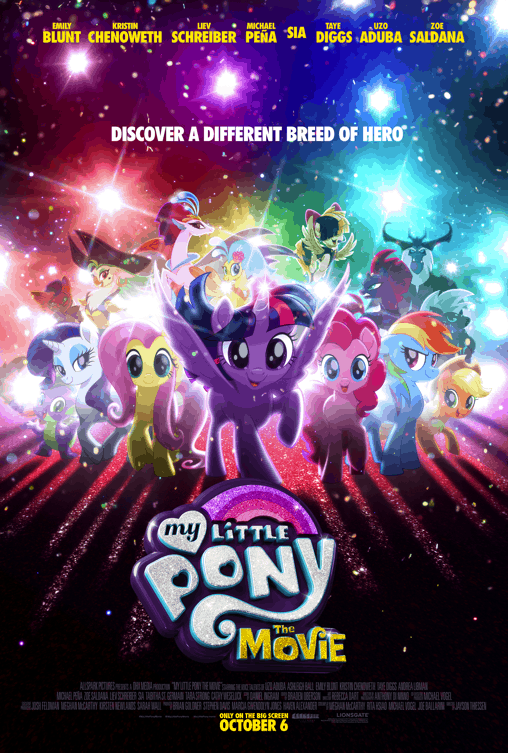 My Little Pony – The Movie 2017
My little girls love all of the My Little Pony movies! My daughter, the oldest, collected every single MLP Build-a-Bear…even the ones I had to order online only. They love the shows and even when they were Equestria Girls! We had all those dolls too! So I am really excited to take my girls to the MOVIE too see this one and might even have to make my Rainbow Cupcakes but this time with rainbow icing!  ENJOY the trailer below!
A dark force threatens Ponyville, and the Mane 6 – Twilight Sparkle, Applejack, Rainbow Dash, Pinkie Pie, Fluttershy, and Rarity – embark on an unforgettable journey beyond Equestria where they meet new friends and exciting challenges on a quest to use the magic of friendship to save their home.

The film has an all-star voice cast including Emily Blunt, Kristin Chenoweth, Liev Schreiber, Michael Peña, Sia, Taye Diggs, Uzo Aduba and Zoe Saldana. The movie features original music and songs performed by Sia, Diggs, Saldana, Chenoweth and Blunt. Lionsgate is releasing MY LITTLE PONY: THE MOVIE in theaters nationwide on October 6, 2017.
Lionsgate and Allspark Pictures present, a DHX Media production.
Purchase discounted tickets by using Dealflicks.com! Feel free to save an additional 20% by using the code RFGGTRFLUF at checkout!