I am really excited to share with all of you that I will be traveling to NYC for one night to attend and promote My Little Pony Movie! I was so excited for this movie already, now to get to walk the carpet with the voice talent of my favorite ponies makes me flutter with excitement! Travel expenses are covered by our friends from Lionsgate.  Movie Myla and I will be flying to NYC on Saturday, attending the premiere on Sunday, and flying back that evening!  It is a quick trip but I need all of the fangirls and bronies to follow along!
My girls love My Little Pony. We have watched them a lot, played with all their toy merchandise, and even wear branded merchandise. Not to mention our puppy's name is Rainbow and Rainbow Dash was my oldest's favorite pony. When I heard they were coming out with this movie, I was super excited and my girls and I watched the trailer together.
This Red Carpet has an extremely star studded cast! I am picturing lots of colors, glitters, and rainbows flowing over downtown New York! The voice cast consists of Emily Blunt, Kristin Chenoweth, Liev Schreiber, Michael Peña, Sia, Taye Diggs, Uzo Aduba and Zoe Saldana. The movie features original music and songs performed by Sia, Diggs, Saldana, Chenoweth and Blunt which make me also so excited for the soundtrack!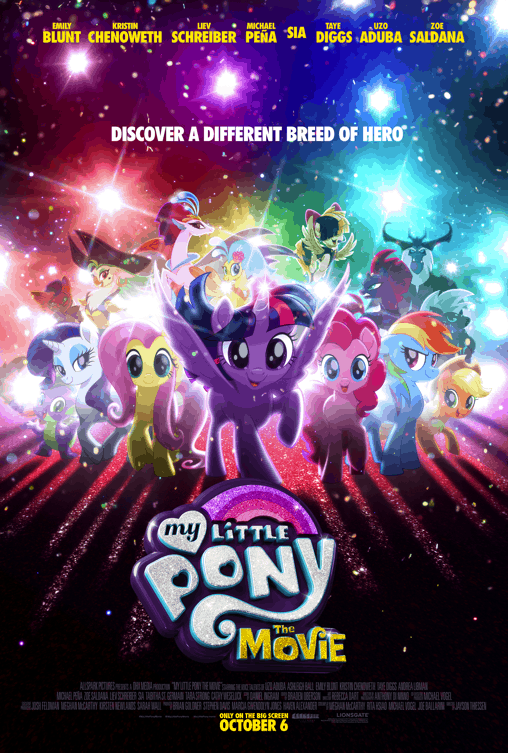 In theaters October 6, 2017!
A dark force threatens Ponyville, and the Mane 6 – Twilight Sparkle, Applejack, Rainbow Dash, Pinkie Pie, Fluttershy, and Rarity – embark on an unforgettable journey beyond Equestria where they meet new friends and exciting challenges on a quest to use the magic of friendship to save their home.
Purchase discounted tickets by using Dealflicks.com! Feel free to save an additional 20% by using the code RFGGTRFLUF at checkout!