I haven't been able to get the new Mary Poppins Returns movie out of my head.  It is just such a great film. If you are stumbling this post I am guessing you are looking for Mary Poppins Returns Movie Quotes & Lyric Lines because you have already seen the movie.  If not, you might want to take a break and read our Mary Poppins Returns review instead.  Then come back to this post for all of your favorite quotes so you don't get any spoilers.
We will just say all three of us movie writers, here at EnzasBargains.com LOVED the movie! Of course I had the opportunity to attend the junket and interview the cast as well. Every part was PERFECT. The songs are part of the movie so the lyric lines



Mary Poppins Returns Movie Quotes
?You'll have a different point of view, if you would just look up. ?- Jack (Lin Manuel Miranda)
"It looks like the river Thames in here!" – Ellen (Julie Walters)
"Pickle berries for breakfast and marmalade for lunch." – Ellen
"Your umbrella talks." -Georgie
"You could grow a garden with that much dirt." – Mary Poppins, in reference to the Georgie's dirty clothes (Emily Blunt)
"I was flying a kite and I got caught on a nanny!" – Georgie (Joel Dawson)
Mary Poppins: "You seemed to just have misplaced Georgie."
Anabel Banks: "Only slightly…"
"Everything is possible, even the impossible!" – Mary Poppins
"Cleaning is not a spectator sport." -Mary Poppins
"Looks like we are in China, so to speak." – John (Nathanael Saleh)
"We're on the brink of a new adventure, children.  Don't spoil it with too many questions." -Mary Poppins
"It if makes no sense it can't be true." -John
The children come upon a cartoon wolf and he responds, "That's right – I'm Irish."
"We're on the brink of an adventure children – don't spoil it with questions!" – Mary Poppins
"One thing you should know about Mary Poppins is that she never explains anything." – Jack
The crowd requests that Mary Poppins sings at the Music Hall and she responds, "I couldn't possibly – D flat major." – Mary Poppins
?A cover is nice, but a cover is not the book." ? – Mary & Jack
"Can't lose what you've never lost."
"I really hope you find those share certificates." -Frye
"You really did choose the wrong profession."
"Today or never, that's my motto." – Mary Poppins, and later John
"Nothing is gone forever, just out of place." – Mary Poppins
"Nothing. Such a useful word. It can mean anything and everything." -Mary Poppins
"She is a tough nut, isn't she?" – John

"Sit up straight, you aren't flour bags." – Mary Poppins
"We can ask for day old bread for 1/2 off."  -Anabel (Pixie Davis)
"When the world turns upside down, the best is to turn right along with it." – Mary Poppins
? "No longer am I afraid with this new point of view." ? – Topsy (Meryl Streep)
"I may be circling the grave, but I have a few steps left in me."  – Mr. Dawes Jr.
Balloon Lady: "But tomorrow I suppose the grownups will forget."
Mary Poppins: "They always do."
"Where do all the lost things go? Nothing is really lost." -Mary Poppins
?Something from a star she makes glow, find her in the place where the lost things go. ?
? "When the world is getting scary, be your own luminary." ?- Jack
Mary Poppins Returns will be playing in theaters on theaters on December 19th!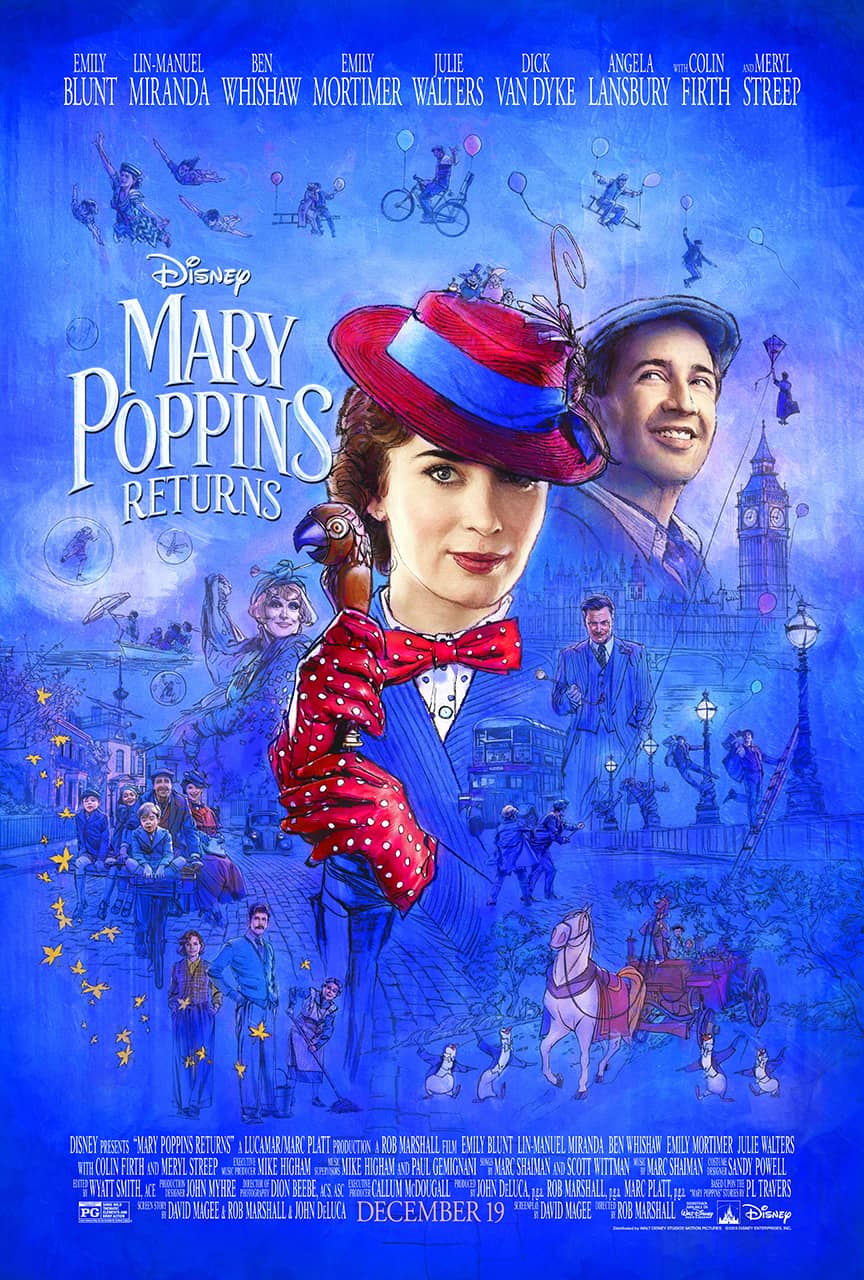 In Disney's "Mary Poppins Returns," an all new original musical and sequel, Mary Poppins is back to help the next generation of the Banks family find the joy and wonder missing in their lives following a personal loss. Emily Blunt stars as the practically-perfect nanny with unique magical skills who can turn any ordinary task into an unforgettable, fantastic adventure and Lin-Manuel Miranda plays her friend Jack, an optimistic street lamplighter who helps bring light—and life—to the streets of London.