When I was in LA, a couple of weeks ago for the Mary Poppins Returns Press Junket, I interviewed the cast.  The cutest interview out of all of them was when I got to sit down with 2 out of the 3 kids from Mary Poppins Returns.  Pixie Davies who plays Anabel Banks & Joel Dawson who plays Georgie Banks sat down to talk to us about what it felt like to be in the movie and their experience!



During the press junket both of the kids were doing their schooling next door.  They took a break to chat with us about the film.  Both kids are really smart.  Pixie answered questions like she was an adult and Joel just made us smile and laugh a lot.
Pixie and Joel play the kids of Michael Banks (Ben Whishaw).  Check out the highlights from our interview:

Pixie Davies & Joel Dawson Interview
About the chase part of the animation sequence.
Pixie: "That was so much fun. It was, because the music was being played, I actually felt like we were actually in a chase and it was really awesome, yeah."
How did you feel once you saw the animation completed?
Pixie: "It was really surprising because you don't know all the details that are gonna be there, and then you watch it and it's there."
What was your favorite part of filming the movie?
Joel: "I really liked the part when I had to dive through the bushes and then got dragged along by the kite. That was a really fun scene."
Pixie: "I think it was Trip a Little Light Fantastic because it was just incredible watching the dance. It just gets better every time."
About finding out you got the part in the movie.
Joel: "Well my agent already knew so she came over and as she was there, then Rob Marshall called me and he said we want you to have the part. And then I had it on speakerphone and everyone was just so silent and my eyes were watering. And my mum was squealing after the phone call."
When you are not filming and on the set?
Pixie: "We had tutoring a lot, which was, it was okay, you know, it was tutoring. But we had quite a lot of fun. We had like tents, and there was a place that was the most magical place on earth. There was lots of food and it was great"
Joel: "I remember one day they had a chocolate water fountain with marshmallows and cookies."
Pixie: "It was great."
Joel: "And strawberries."
About the green screen.
Pixie: "Yeah, the green screen because you don't know when, 'cause you're in a green room and then you watch the film and you're like oh, that's so detailed. And even if you were, like on topsies, there are things on the camera that it picks up, that you don't pick up in your eye, and you sort of watch the film and you're like oh, I didn't realize that was there, or oh yeah, I remember that. And then sometimes it's just a bit of a surprise 'cause if you were actually there then it's a bit confusing if you see something that wasn't there."
What do your siblings thing about you being in this movie?
Pixie: "They're all really proud of me and it's really fun because they all love Mary Poppins and they're really happy and they've seen, well two of my siblings have seen the first — the one, the Returns and they really loved it and they're really excited to see it again tonight."
Joel: "Yeah, my sister, she's been really supportive of me during the past few months that we have had where we're not allowed to tell anyone. I remember one time when I just blurted it all out accidentally, because I had signed the papers to say, no I'm not gonna do it, but I still hadn't got the job. I didn't know so it was like, I just accidentally blurted it out when my teacher said hey, what are we all looking forward to? And I just accidentally just blurted it out."

Mary Poppins Returns will be playing in theaters on theaters on December 19th!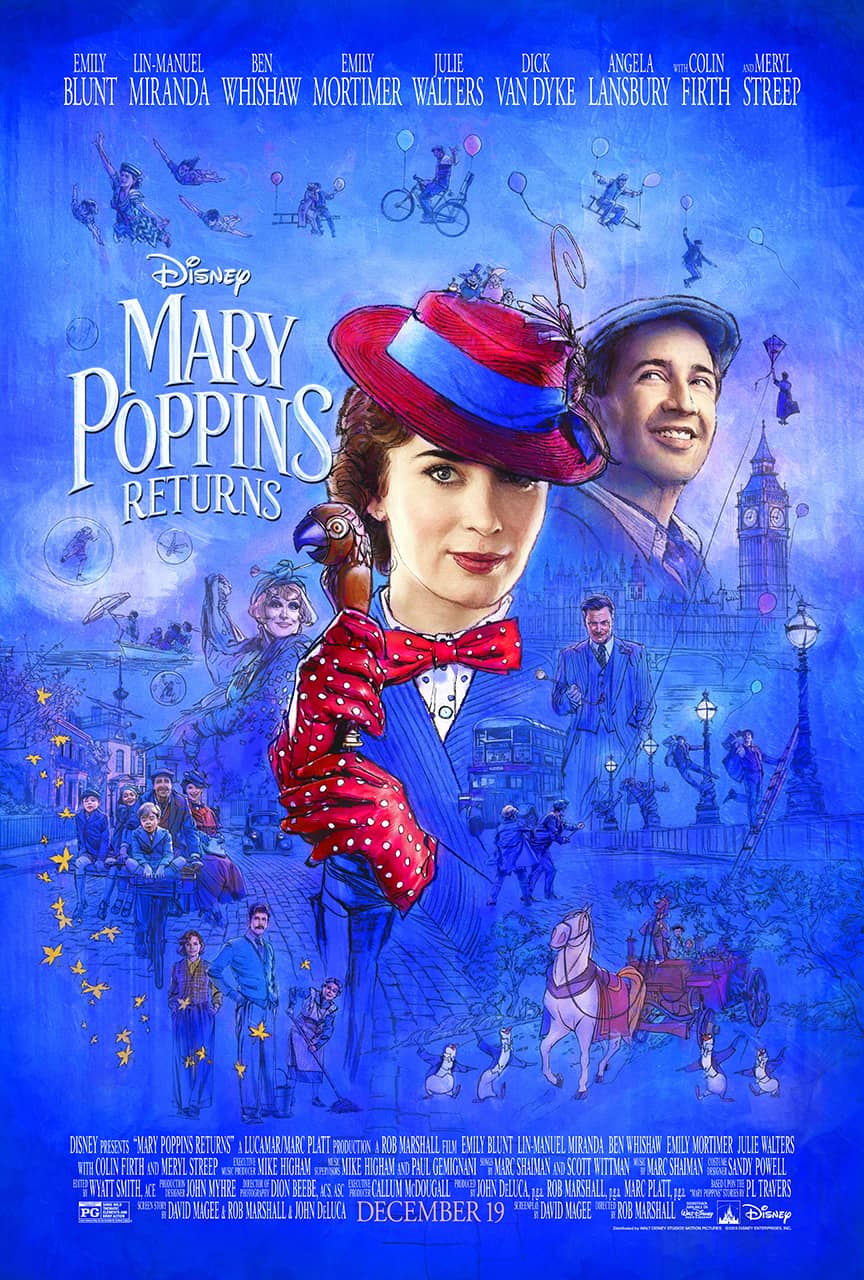 In Disney's "Mary Poppins Returns," an all new original musical and sequel, Mary Poppins is back to help the next generation of the Banks family find the joy and wonder missing in their lives following a personal loss. Emily Blunt stars as the practically-perfect nanny with unique magical skills who can turn any ordinary task into an unforgettable, fantastic adventure and Lin-Manuel Miranda plays her friend Jack, an optimistic street lamplighter who helps bring light—and life—to the streets of London.