If you are looking for a compiled list of LEGO® NINJAGO® Movie Quotes, here is over 40 of our favorite lines from the movie. We are hoping you came across this post and you have already seen the movie, we would hate for you to have any spoiler alerts. The movie is awesome and we already published our NEGO NINJAGO Movie Review.
If you have a favorite quote from the movie that isn't listed, please comment below.  We want to know your favorite line.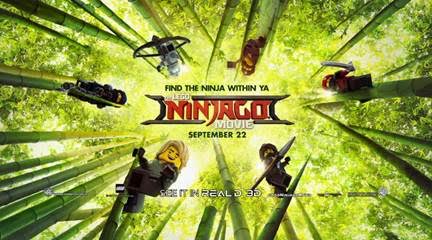 NEGO® NINJAGO® Movie Quotes
Mr. Liu: "Why don't you play outside with your friends?"
Mr. Liu: "That cat is real. A real monster!"
Mr. Liu: "He looks like a really brave fighter….You just have to look at it in a different way."
Mr. Liu: "Have you ever heard of the legend behind the legend of NINJAGO?
Garmadon: "I didn't call you, my butt called you."
Lloyd (Dave Franco): "Have you been to high school? It is judgy, real judgy."
Garmadon (Justin Theroux): "What is my name?"
People: "Garmadon!"
Garmadon: "I can't hear you."
Teacher: "It's Garmadon!"
Class: "Thanks, Lloyd!" (disappointment)
Kid: "Thank you, Green Ninja. I want to be you when I grow up.
Garmadon: "He couldn't talk, couldn't walk. I was like, 'what am I going to do with this kid."
Garmadon: "Who taught you how to throw?"
Lloyd: "Nobody!"
Garmadon: "You have a lot of issues, Green Ninja."
Garmadon: "Is that green ninja still staring at me?"
Someone: "Yes."
Garmadon: "Ew what a weirdo."
Garmadon: "Do you want to be a follower or a leader?"
Number 1: "A leader?"
Garmadon: "Garmadonny Likey."
Jay (Kumail Nanjiani): "My mom is weird and collects sea shells. Your dad is evil and destroys cities."
Master Wu: "There is nothing ninja about you ninjas."
Master Wu: "Lloyd, your elemental power is green."
Master Wu: "The strongest weapon is inside of you!"
Master Wu: "Lloyd, I am his brother but I will not always be here to train you."
Lloyd: "Why?"
Master Wu: "Because I am super super old."
Garmadon: "How could I ruin your life? I wasn't even there."
Garmadon: "The omelet omelet weapon. Sounds delicious."
Cole (Fred Armisen): "When you talk I don't want to listen, but when he talks I want to listen."
Garmadon: "You got to get yourself a volcano, kid."
Lloyd: "It's only going to hurt for a second, right?
Garmadon: "This is going to be agony!"
Garmadon: "I really stepped up here. Like in a dad way."
Lloyd: "Mom was a ninja?"
Garmadon: "She was fighting for good."
Lloyd: "If you guys were so perfect, why did you leave us?"
Garmadon: "It's complicated."
Garmadon: "The life of a conquering warlord was not the life she wanted for you."
Garmadon: "I could have changed, but I didn't."
Lloyd: "Green is the color of of life and it flows through all living things the way I connect ninjas, the way I connect my family whether we are together or not."
Mr. Liu: "Your training begins at dawn."
Besides LEGO NINJAGO being a great and funny action movie, it has a really rad soundtrack featuring Taylor Swift's "Bad Blood".
Purchase discounted tickets by using Dealflicks.com! Feel free to save an additional 20% by using the code RFGGTRFLUF at checkout!
In this big-screen NINJAGO adventure, the battle for NINJAGO City calls to action young Master Builder Lloyd, aka the Green Ninja, along with his friends, who are all secret ninja warriors. Led by Master Wu, as wise-cracking as he is wise, they must defeat evil warlord Garmadon, The Worst Guy Ever, who also happens to be Lloyd's dad. Pitting mech against mech and father against son, the epic showdown will test this fierce but undisciplined team of modern-day ninjas, who must learn to check their egos and pull together to unleash their inner power.