If you are thinking of taking your family to a movie that everyone will love, LEGO® NINJAGO® is the one that you won't want to miss. Our Lego Ninjago review can be summed up in a few words: hilarious, action, adorable, and fun! I had the honor to attend our Kansas City advanced screening and screen the movie with my girls and our friends. This post contains affiliate links, where this momma makes a commission and helps pay for her site expenses.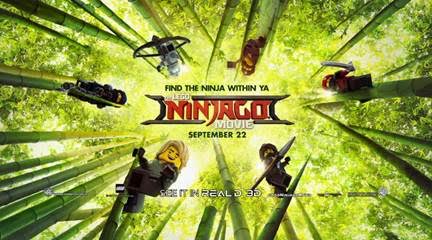 The cast did an awesome job, the characters were great, and the story was unbelievable. If you or you have kids that you know who come from split homes this will tug at your heartstrings just a little bit. Lloyd comes from a split home and doesn't understand why his dad left and his purpose. He is 16 years old and being in high school is not easy. At the end of the movie you will learn that it is because of Lloyd that he connects his family together he says, "whether we are together or not."
My kids thought it was hilarious. The youngest didn't understand a lot of the inside storyline and how it relates to relationships with family and friends and the struggles that Lloyd had. I know she liked the movie because she only needed one potty break and almost skipped it because she didn't want to miss the movie (I insisted of course). My oldest came home and the first thing she asked was if I ever butt dialed. Thank you, Warner Brothers, for the interesting and hilarious question coming from my 8 year-old.  We all LOVED the cat! As a pet owner, we can relate to our little ones messing up our games.
Besides LEGO NINJAGO being a great and funny action movie, it has a really rad soundtrack featuring Taylor Swift's "Bad Blood".
Purchase discounted tickets by using Dealflicks.com! Feel free to save an additional 20% by using the code RFGGTRFLUF at checkout!
In this big-screen NINJAGO adventure, the battle for NINJAGO City calls to action young Master Builder Lloyd, aka the Green Ninja, along with his friends, who are all secret ninja warriors. Led by Master Wu, as wise-cracking as he is wise, they must defeat evil warlord Garmadon, The Worst Guy Ever, who also happens to be Lloyd's dad. Pitting mech against mech and father against son, the epic showdown will test this fierce but undisciplined team of modern-day ninjas, who must learn to check their egos and pull together to unleash their inner power.