***MORE pictures coming soon.***
The last interview of my  set visit for Spider-Man Homecoming was with Amy Pascall and Kevin Feige. These are two of the masterminds behind the movie!  Amy was the producer and Kevin is the President of Marvel!
Whenever I have sat down with Kevin I geek out a bit. The last time I interviewed him I asked him one of my favorite interview questions I have ever asked during Ant-Man and asked him if we would even see Ant-Man and Hawkeye team up and showed him a picture of the comic where Ant-Man is getting shot from Hawkeye's arrow. I have never seen anyone light up so much during an interview! (That of course made it in Civil War). NOW….What about Spider-Man Homecoming! I know that when interviewing these two this might be their favorite Marvel movie yet! This is a movie about Peter Parker which has never been told in the Marvel Cinematic Universe!  I also geeked out during this interview!
The talented Amy Pascal had me so intrigued by her stories and her passion that I am so excited to share this movie with all of you. She said the relationship with Spider-Man and Iron Man is her favorite between all of the characters and stories in the movie.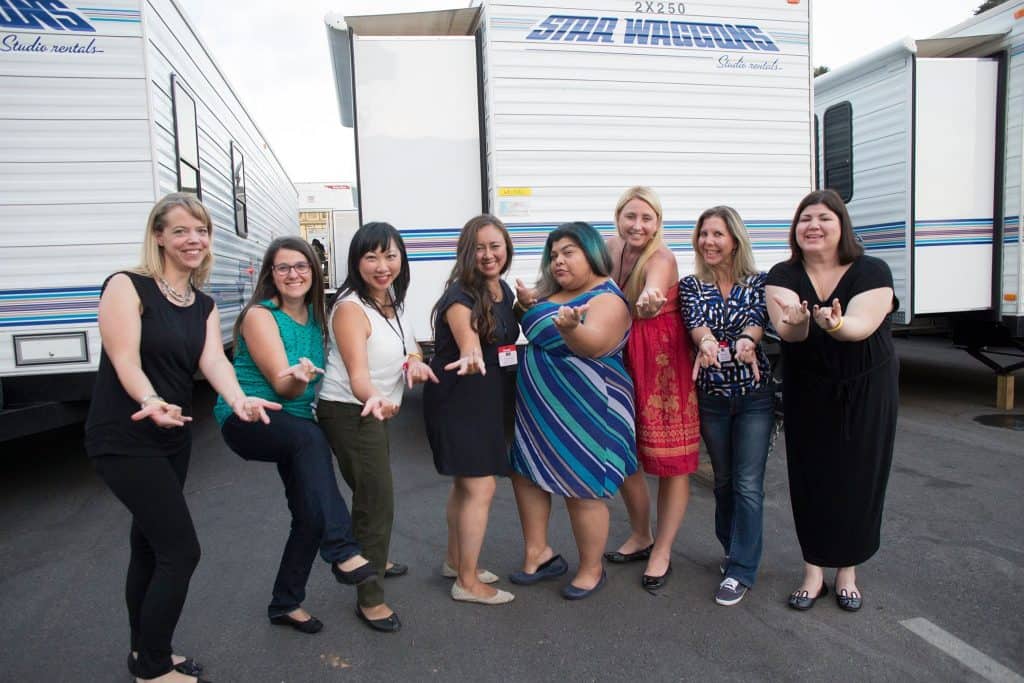 Here are some of our highlights of our interview:
What was behind the decision to bring Spider-Man back to high school?
Amy Pascal: The great thing about Peter Parker is that he is in high school, he is a 15 year old, and that what makes him different from every other superhero is that he's a child. He's fighting all these grown-ups, but he's just a boy and that is what he is in the comics.
Kevin Feige: To have it stand apart, not just from some of the other Spider-Man films, where he'd been in high school for a little bit of those movies, but from all the other movies that we've made. There isn't one that inhabits this sort of, exuberant youth and enthusiasm. As Amy said, in those comics, that's why he stood out, that's why Spider-Man was so unique in the comics, was in contrast to the other heroes. Now that he's part of our cinematic universe, in this movie, you see that, and you see when he's with Robert (Downey Jr) in Civil War a little bit, and so we continue that in this movie.
This movie is different in the MCU in that it's in partnership with Sony, so has that changed the dynamics of the filmmaking process for you?
Kevin Feige: Not really. I think Sony and Amy, is a producer here with us, has made sure that it can be just as we always want it to be, which is, frankly, that way I think every movie is, which is just about the creative, just about the movie, just about the story, just about the characters, and Sony has been unbelievably supportive.
Amy Pascal: I have to say that, and it's an incredibly unusual thing, for three studios, because I am including Disney in it, Disney, Marvel and Sony all decided that the best thing was to make a great Spider-Man movie. That was the most important thing, and you guys know a lot about studios, they are not big sharers. It is the first time that I can think of, and I have been in this business for far too long, that the studios all decided that the character was the most important thing and, if we could make a great Spider-Man movie, it was good for all the companies, and all the success, all the stuff, there would be enough for everybody if we made the right movie. I think that's an incredibly unique thing for three corporations to decide to do. Because it was done in that spirit, that spirit has been, kind of, the positive ghost on the whole movie, and it's permeated everything.
Which relationship do you like the best between Peter Parker and the other characters in the movie?
Kevin Feige: What's so cool is that, and this is a testament to Tom Holland, and to the script, he's paired off in so many different ways. He and Marissa (Tomei) are great together, you saw a glimpse of that in Civil War. He and Robert, obviously, are incredible together. He and Jacob, who plays Ned in the movie, who you saw a taste of today, are hilarious together. He and Michael Keaton, have their own dynamic. And Zendaya… it's really pretty amazing, we even shot some with Jon Favreau last week.
Amy Pascal: They were fantastic together, it was ridiculous!
Kevin Feige: They were amazing together. Tom sort of, elevates the other performers he's working with and matches, Amy was talking earlier, about how he matches their style. It's fun. I'm actually not sure which of those pairings will end up being the audience favorites because right now, I think it's a tie.
Amy Pascal: (whispers) Iron Man. You can't F***** believe it! I mean, the electricity! First of all, let's be honest, Robert, when we cast Tom, Robert was there. He was the one that read with all these kids. He whispered to us right after and said, 'that's the one.' I think that, he feels very responsible and he feels very paternal towards him. And their relationship in the movie mirrors their relationship (offscreen) and how they feel about each other as actors, and mentors in the way that Tom looks up to him. It's quite astounding.
These guys have been around Robert forever, I haven't been around Robert forever.  You cannot believe this man. He's the most electrifying, charismatic, ridiculously sweet, funny, brilliant guy. I've never seen anything like it.
What was the casting process like for Spider-man, and what quality about Tom made you say, 'that's him'?
Kevin Feige: It was the screen test. We saw hundreds and hundreds of kids, and kept narrowing it down. We brought five or six to Atlanta, to read with Robert. Robert was super gracious with his time, knew how important this was that Spider-man was coming into the fold, and took the time to read with five different young actors. As Amy said, after Tom, when he was heading out the door, he indicated, what we all saw in that reading, that Tom was head and shoulders above…
One of the reasons he stood apart is because, Robert goes off book, almost instantly. He knows the scene, and he begins to riff instantly. Tom, in a very sweet, very funny, very authentic way, began to riff back with him. I think Robert got surprised, for a second as that happened, because he was sort of steamrolling some of the other, which tends to happen with Robert and other actors, and Tom kept it, and it was pretty amazing.
Kevin Feige: Usually on a movie like this you have incredibly qualified stuntmen, who will teach the actor two or three moves, and an actor, at best, can do, four or five? And sort of, match some poses. Tom is showing the stuntmen how to do things on this one. Which is totally a benefit, right? It wasn't, that was not why he got the part. In fact, during that Chris Evans audition, the script says 'Spidey flips into scene' and Tom goes, oh, should I do that? And Evans goes like, 'oh yeah, yeah you just flip into the scene, kid. No, you just walk into it.' And he does it, standing flip, jump, flip, land. Even Evans was like, what? What just happened?
For comic lovers, which scene do you think will be their favorite, what do you think they will gravitate to?
Feige: There are villains in this film that we've never seen in any movie before that are very important to his canon. So I think a lot of those images are cool, but, as she said earlier, when you see Iron Man and Spider-Man in a frame together, that is pretty exciting. It's pretty cool.
Pascal: And, yeah, there's a lot. It's got a lot of really juicy stuff in it cause one of the things that was very important to Kevin, and to myself, was that the relationships were really complicated and that they were really layered, and that the characters are not archetypes, right? That they are actually people and that every single character had to seem like they were a real person. So, it's remarkable what you get when you force yourself to make an intimate movie on a massive scale.