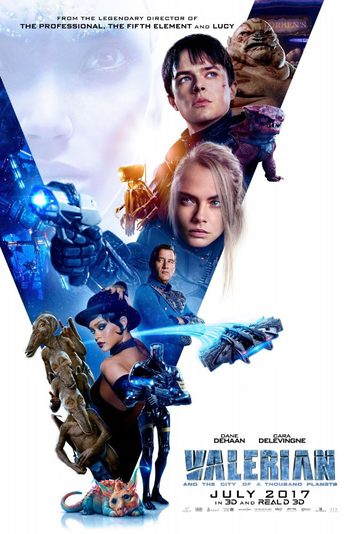 Hey Kansas City readers!  We have another treat for you!  Are you looking to attend a free screening?!  We have passes to see Valerian And The City Of A Thousand Planets in an advanced screening at B&B Shawnee 18!  We are excited for the movie and the theater since they also have that new Screen Play room for kids!
About Valerian And The City Of A Thousand Planets
VALERIAN AND THE CITY OF A THOUSAND PLANETS is the visually spectacular new adventure film from Luc Besson, the legendary director of The Professional, The Fifth Element and Lucy, based on the ground-breaking comic book series which inspired a generation of artists, writers and filmmakers.
In the 28th century, Valerian (Dane DeHaan) and Laureline (Cara Delevingne) are a team of special operatives charged with maintaining order throughout the human territories. Under assignment from the Minister of Defense, the two embark on a mission to the astonishing city of Alpha—an ever-expanding metropolis where species from all over the universe have converged over centuries to share knowledge, intelligence and cultures with each other. There is a mystery at the center of Alpha, a dark force which threatens the peaceful existence of the City of a Thousand Planets, and Valerian and Laureline must race to identify the marauding menace and safeguard not just Alpha, but the future of the universe.
Valerian And The City Of A Thousand Planets Kansas City Advanced Screening
You're Invited:
B&B Shawnee 18
16301 Midland Dr.
Shawnee, KS 66217
July 19th at 7pm
Click here to claim your passes!
*Reminder that passes are limited and if you are unable to attend, please don't request tickets and leave them for those who can attend.  If something comes up (we are all human), please be sure to cancel your reservation so that the link opens up to other readers.  Remember to bookmark this page and check it often!
Kansas City Exclusive E-mail List for Enza's Bargains
If you are in KC and want me to e-mail you free movie passes, giveaways, and information on local entertainment please be sure to subscribe to my e-mail!  Those who have subscribed get first dibs usually on tickets and giveaways! Subscribe HERE.  Now since you have subscribed, be sure to fill out the form for your official entry!