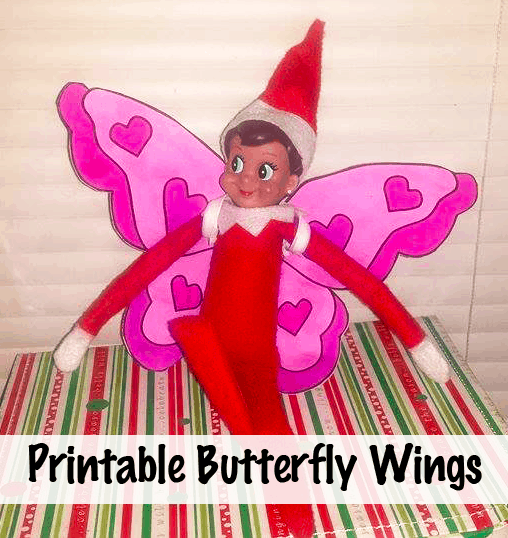 We love our Elf on the Shelf very much! One day we woke up and our Elf, Sparkle decided she wanted to be a butterfly! It was very magical! Creating your Elf on the Shelf magical butterfly is very easy with these free Elf on the Shelf butterfly printables that I created for you! We use a twisty tie to attach our wings to our elf!! You can also very easily make a head bad out of pipe cleaner for antennas! I want your Elf on the Shelf to be stress free but yet magical so here is what you will want to do!




Creating Elf on the Shelf butterfly wings is really easy since I made them for you! If you are good at coloring you can change them up.
1. Print these Elf on the Shelf butterfly wings below:
2. Cut them out.
3. With a twisty tie (or double sided tape) attach them to your elf!
4. Then Ta-Da you are ready for some more Elf Magic.
Since I like for our elf ideas to be fast, easy, and cheap I have also created a set of printables that you can use to finish off your Holiday Elf ideas! I have Spider Man, Star Wars (the series including Darth Vader, Storm Trooper, and Darth Maul), & Captain America!
If you have any sort of paint tool, feel free to color in the wings any color that you would like! These Elf on the Shelf butterfly wings are perfect !
Inspiration for wings came from an altered, resized, and colored version of from http://www.picscoloring.com/.
Looking for more Elf on the Shelf Printables:
 Elf on the Shelf Spiderman Mask 
Elf on the Shelf Captain America with Shield
Check out more of my other Elf posts HERE.