This is the 4th post of my Jumanji Press Junket series! Possibly my favorite post! I finally get to share my Interview with Dwayne Johnson, Jack Black, Nick Jonas, and Karen Gillan for Jumanj: Welcome to the Jungle! I recently was invited to attend the Jumanji Press Junket in Hawaii, interview the filmmakers, go on a crazy helicopter tour, then returned to interview these amazing stars!

It was an amazing experience.  The cast entered the room and we started off by taking a group picture.  Jack Black introduced himself to us and was very polite.  The others also entered and loved our applause as we cheered for their wonderful talented production that we had just screened, Jumanji!
Dwayne Johnson plays Dr. Smolder Bravestone and also Spencer.  A fearless main character who is very different then his non-game role as Spencer.

Jack Black plays Professor Shelly Oberon and also "Bethany".  Yep he plays a very funny female role who is all about herself but when entering the game is a male professor!

Nick Jonas plays Alex and also Jefferson Seaplane McDonough. I can tell you he has an important and helpful role in the movie!  (That is about it without giving you any major spoilers.)

Karen Gillan plays Ruby Roundhouse and also Martha in the movie.  When she enters the game as Martha she becomes a very good looking Ruby Roundhouse!

Interview with Dwayne Johnson, Jack Black, Nick Jonas, and Karen Gillan
Question: How much did your parents do to get you where you are today?
Karen: "You know what when I look back on my upbringing I am just so grateful to both of parents for never they never showed any doubt in me, a need in me. I think a lot of parents do that without realizing it where they'll be like oh that's what you want to do like. I'm worried for you. It's a hard field. So I'm grateful that my parents never really showed that maybe it was just a slight lack of interest. Not sure but I'm grateful nonetheless."
Jack: "My parents were not in the industry entertainment wise. They were both engineers. It is with satellites and stuff that I still don't understand what the hell they were doing. I did not follow in their footsteps but they were very supportive and they came to every one of my high school performances of plays that I did and that was it was great. I couldn't have done it without their support not just emotionally but also financially. I've been kept on like all through the 90s. I was telling you earlier I scrape and taken every audition I could play in whatever part I could get to pay the rent."
Nick: "My dad was actually in ministry so I grew up singing in church and became a big part of my life and eventually ended up on Broadway because they went to go see a show and said you know you love singing you love acting. It's just something you want to do. We'll take you on an audition but if not. No pressure. Go play soccer. And it was the best thing in the world that parents that supported me in that."
Dwayne: "So my mom was always incredibly encouraging. I think like all of our moms, my dad was one who came in and taught me tough love and what that meant and what that was and what. Always what hard work would get you and the belief in hard work and that philosophy. I will say this about my mom is that. And my parents in general was but especially coming from my mom was, was, always to make sure that there was just a tremendous amount of gratitude that was always in the house. "
Question: What was your favorite theme of the movie?
Karen: "For me the most interesting theme in the movie was probably embracing who you are and I think these four teenagers have difficulty doing that. It isn't until they inhabit the bodies of other people that they're able to really appreciate their own attributes and personalities and then they just have to find a way back to them. And I think that's a very important message to just embrace all of your weirdness and awkwardness and just be that."
Dwayne: "…my favorite one would have been the one as Karen was saying to embrace who you are. Oh you know the other one too is the notion of friends who are from different pockets in high school and different cliques who necessarily wouldn't get along and be together all of a sudden not only do they come together but learn to work together and then actually realize like I really like these people and they want to stay together by the end of the movie. It's a really good message."
Jack: "I think a great one is not judging people by their outward appearance…But looking deeper into their hearts to see the strength in character, that was a big deal in the movie and is my favorite. I think a message you think and all that."
Nick: "..to be able to disconnect and actually connect with the people in front of you and build these relationships and friendships."
Question: How do you unplug?
Jack: " I go swimming in the pool with the boys sometimes and you know because the phones are only water resistant. I can't take him in there. So that's a good time to unplug. Have a good one. Yeah just to recharge just until it gets back up to 100. I'll get out of the hole get back online quickly as possible."
Nick: "Like a rock star, I'm a big sports fan. So I'll go play golf or baseball and then also I've got two nieces now two beautiful little nieces so when I can get back to the east coast see them that's the highlight of my year."
Jack (to Nick): "So you're like a mad man to you and go off on crazy like adventures like hiking Rick even go off into the Hawaiian mountains and like repel. Were you repelling down some mountains. Some people say don't go hiking they don't usually think I'm going to bring a rope and some equipment. So you go rappelling down the mountain like a daredevil maniac."
Question: What was it like getting the part?
Nick: "I would love to say that I chose it. But you know I read for the role and I was such a huge fan of the original so and when I saw Jumanji on the script I was I was blown away and then once I heard who's going to be in it I think the approach for me was just trying to soak up as much as I could. You know you're dealing with some of the greatest actors in the business and also people that are willing to be patient with you. You know the first day onset for me was my biggest scene my all my dialogue really to introduce the character was in some important beats but everyone was really patient and really a very warm set which was something I was very thankful for."
Jumanji: Welcome to the Jungle will be in theaters December 20, 2017!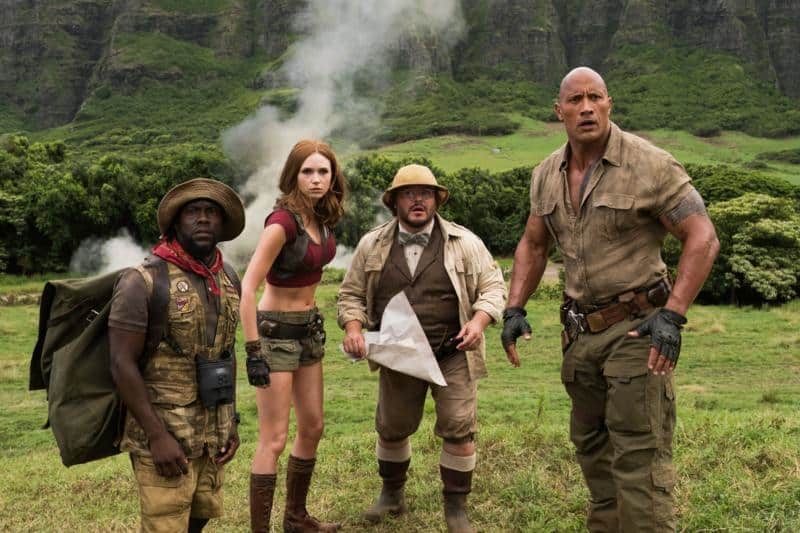 In the brand new adventure Jumanji: Welcome to the Jungle, the tables are turned as four teenagers in detention are sucked into the world of Jumanji. When they discover an old video game console with a game they've never heard of, they are immediately thrust into the game's jungle setting, into the bodies of their avatars, played by Dwayne Johnson, Jack Black, Kevin Hart, and Karen Gillan. What they discover is that you don't just play Jumanji – Jumanji plays you. They'll have to go on the most dangerous adventure of their lives, or they'll be stuck in the game forever…
Affiliate Links:
Purchase tickets for "Jumanji: Welcome to the Jungle" today from
Fandango
or save money using Dealflicks!
Purchase discounted tickets by using Dealflicks.com! Feel free to save an additional 20% by using the code RFGGTRFLUF at checkout!