Jumanji: Welcome to the Jungle Review is one of several blog posts about our Jumanji Press Junket series! We screened the movie in Hawaii and we were surprised by two special guest who introduced the film: Jack Black and Dwayne Johnson! If you are thinking about taking your family to the movie you should! The movie is rated PG13 and I will explain why below.

First of all, I loved the movie and my face hurt from smiling and laughing out loud so much! There were parts of this film that had me jumping out of my seat along with laughing immediately after. It was a great and hilarious action film.
Also, when it came to talent they were all the actors and actresses were amazing!  I thought all the talent was good, but Jack Black and Kevin Hart's character definitely were my two favorite characters in the movie. They had me laughing so hard that I am pretty sure I burned off all my dinner calories. Karen's role in the movie was a kick-butt gal who needed to get out of her shell to realize how awesome she was in life. Dwayne "The Rock" Johnson, was the main character that really kept the team all together.  Then there was Nick who helped save them and was part of the main cast (no spoilers).
Last, the movie has some great themes about coming together in order to win, living outside of your skin, and how you would make choices in life knowing you had lives to give.  I thought the filmmakers did an incredible job at relaying these messages. THIS is what makes this movie a family film. It is definitely a must see movie and you won't want to miss it!
Now to answer your question, why is it PG13.  There is some bad language and also some mild sexual/bathroom humor.  After all, Jack Black is playing a female (Bethany) in a man's body…so there are some mature jokes there but nothing too crude at all!
Be sure to check out my interview with the Jumanji cast and the filmmakers!
Jumanji: Welcome to the Jungle will be in theaters December 20, 2017!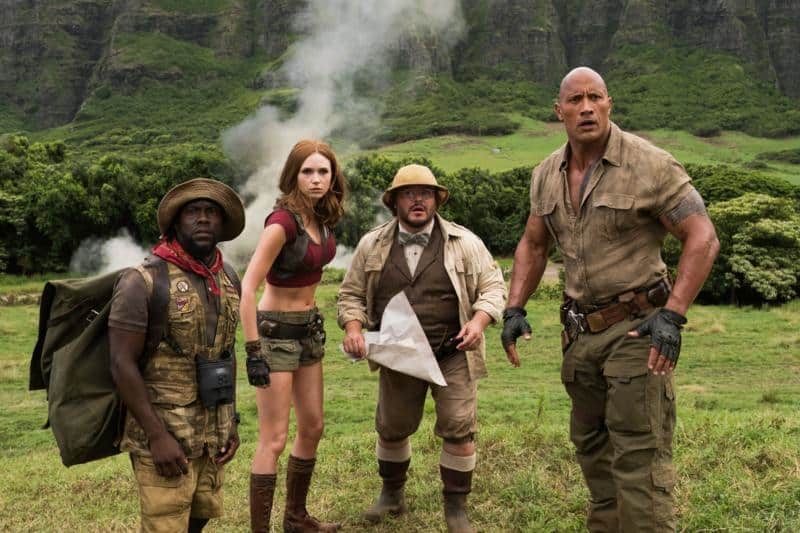 In the brand new adventure Jumanji: Welcome to the Jungle, the tables are turned as four teenagers in detention are sucked into the world of Jumanji. When they discover an old video game console with a game they've never heard of, they are immediately thrust into the game's jungle setting, into the bodies of their avatars, played by Dwayne Johnson, Jack Black, Kevin Hart, and Karen Gillan. What they discover is that you don't just play Jumanji – Jumanji plays you. They'll have to go on the most dangerous adventure of their lives, or they'll be stuck in the game forever…
Affiliate Links:
Purchase tickets for "Jumanji: Welcome to the Jungle" today from
Fandango
or save money using Dealflicks!
Purchase discounted tickets by using Dealflicks.com! Feel free to save an additional 20% by using the code RFGGTRFLUF at checkout!