To all my Kansas City readers! I have tickets for Kubo and the Two Strings Kansas City Screening! This is a great animated movie! As many of you know it is an amazing stop-motion film! During my studio visit I learned some amazing things on how they make this movie happen! It takes over 4 years and millions of man hours to create this movie!

I can't wait to share this movie with the world and to hear about all of the lessons you and your little ones learned from the movie!  I would definitely consider taking your older kids to the movie rather than your toddlers.
I would LOVE for all of you to get tickets but they are only for first click basis! So be sure to grab your tickets and please click one of those share buttons above so that your friends can grab their tickets too!
Be sure you can attend the screening if requesting tickets.  Sometimes the screenings over book so be sure to arrive early to the movie to get yourself some seats!
Kubo and the Two Strings Kansas City Screening
LOCATION:
AMC Town Center 20
11701 Nall Ave.
DATE AND TIME:
August 15, 2016
Monday 7:00pm
(Have your pass ready to show at the door)
GET YOUR PASS:
Click here to get your special screening passes from Enza's Bargains (that is ME)!
Be sure to PRINT out this FREE Kubo coloring sheets for your kids!

Check out my set visit stories:
Kubo & the Two Strings Travis Knight Interview & Arianne Sutner
Kubo & The Two Strings Stages, Scenes, and Environments (Dan Pascall & Oliver Jones and Steve Emerson)
Kubo & The Two Strings Puppets & Costumes (Deborah Cook, Georgina Haynes)
LAIKA'S New Technology – Kubo and the Two Strings
About Kubo and the Two Strings in theaters August 19, 2016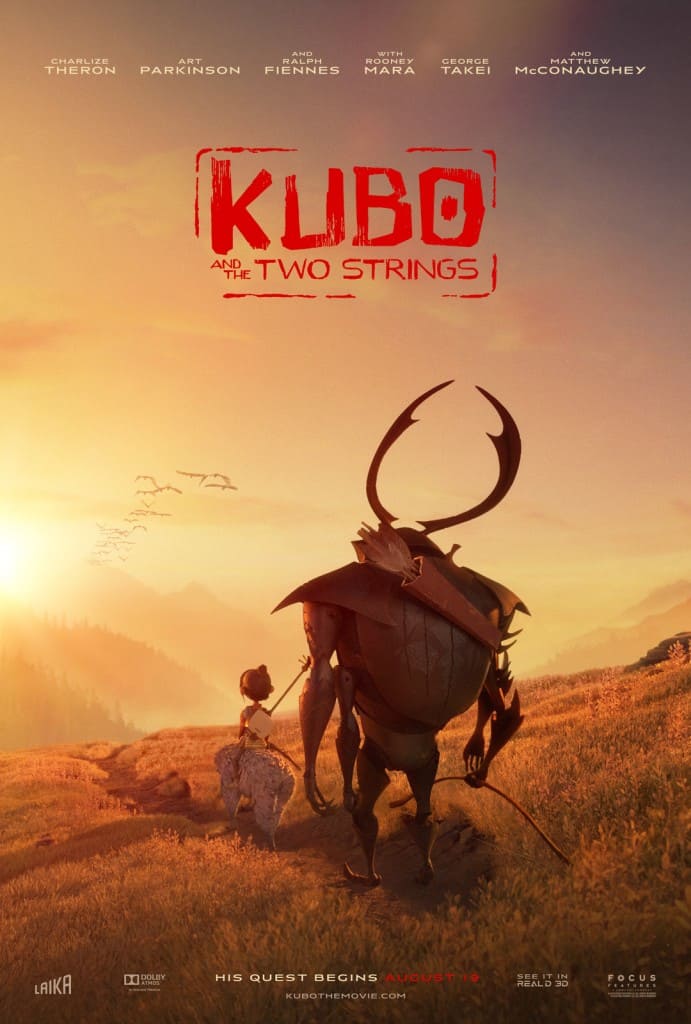 Kubo and the Two Strings is an epic action-adventure set in a fantastical Japan from acclaimed animation studio LAIKA. Clever, kindhearted Kubo (voiced by Art Parkinson of "Game of Thrones") ekes out a humble living, telling stories to the people of his seaside town including Hosato (George Takei), Akihiro (Cary-Hiroyuki Tagawa), and Kameyo (Academy Award nominee Brenda Vaccaro). But his relatively quiet existence is shattered when he accidentally summons a spirit from his past which storms down from the heavens to enforce an age-old vendetta. Now on the run, Kubo joins forces with Monkey (Academy Award winner Charlize Theron) and Beetle (Academy Award winner Matthew McConaughey), and sets out on a thrilling quest to save his family and solve the mystery of his fallen father, the greatest samurai warrior the world has ever known. With the help of his shamisen – a magical musical instrument – Kubo must battle gods and monsters, including the vengeful Moon King (Academy Award nominee Ralph Fiennes) and the evil twin Sisters (Academy Award nominee Rooney Mara), to unlock the secret of his legacy, reunite his family, and fulfill his heroic destiny.

Director: Travis Knight
Writers: Marc Haimes and Chris Butler ("ParaNorman")
Voice Cast: Art Parkinson, Charlize Theron, Ralph Fiennes, Rooney Mara, George Takei, Cary-Hiroyuki Tagawa, Brenda Vaccaro, and Matthew McConaughey
Watch the newest trailer below:
Read more Kubo stories on the blog soon!