When getting to watch the sneak peak of Kubo and the Two Strings I found the movie to be very beautiful. The scenic views, the silhouettes, and the strong human relationship between a boy and him mom is what this movie is about. There are some really strong and cultural characters and of course some of my favorite Kubo and the Two Strings Movie Quotes list is just beginning!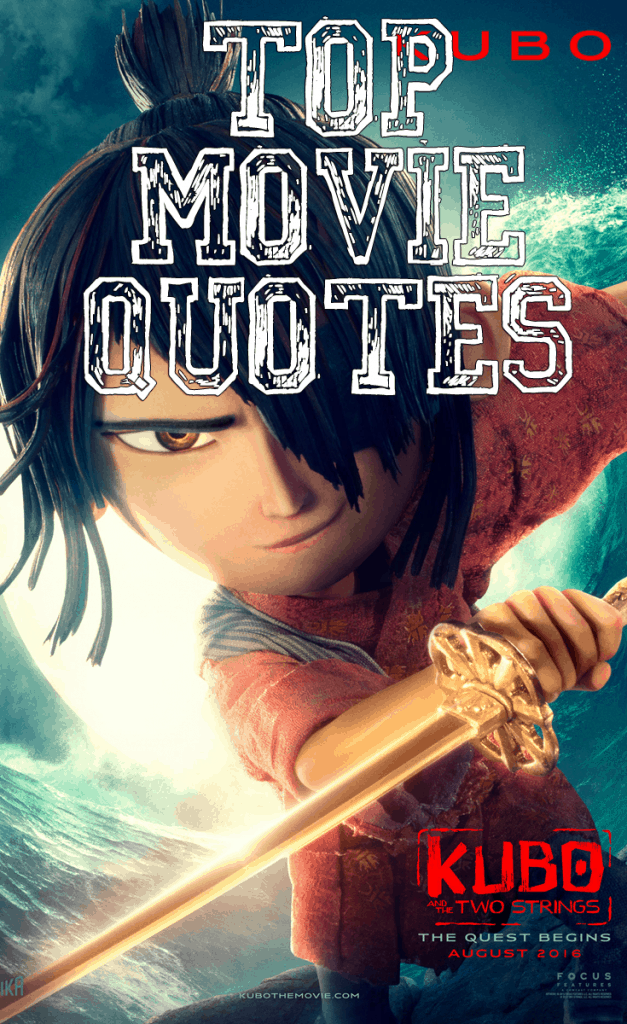 Kubo and the Two Strings Movie Quotes
Check out our entire huge list of movie quotes! If there are any you feel we should add to our list please comment below!
"If you must blink do it now. Pay careful attention to everything you see and hear no matter how unusual it may seem."
"Please be warned. If you fidget, look away or forget anything I tell you our hero will truly parish."
"His name is Kubo. His grandfather stole something from him."
At the farm market.
"What do you have planned for today?" (Ol lady friend)
"Can you throw in a fire breathing dragon? (lady)
"Kill the chicken, rip it to pieces!" (lady)
"This is a pretty good lint." (Old lady stores it in her shirt.)
"They are going to be throwing money at you. They are going to be throwing something at you."
"Kubo Kubo, never ever stay out after dark." –Mom
"Did grandfather and your sister, really kill dad." –Kubo
"It is a shame you don't stay after dark." –Lady
"She said you were a great leader and you died by saving one of my eyes. Two would have been ideal." –Kubo
"Come Kubo. Come Kubo. Come to your aunties." –Aunts
"Kubo, you must find the armour. It is your only chance." –Mom
"Your mother is gone." –Monkey
"Once you are inside, you might be tempted to complain about the odor. Please keep in mind that my sense of smell is 10 times strong than yours." –Monkey
"Your mother used the last of her magic to save you and bring me to life." –Monkey
"Memories are a powerful thing." –Monkey
"He has been standing here for hours judging us quietly." –Monkey
"It is the best bad idea we have." –Monkey
"Monkey, do you ever say anything not encouraging?" –Kubo
"I encourage you not to die." –Monkey
"Magic is not meant to be easy." –Monkey
"Always remember, don't mess with the monkey." –Monkey
"This is a miracle, you are wearing our robes! Why are you wearing our robes?" –Beetle
"I am either a samurai or a really bad hoarder." –Beetle
"I will join you and I will give my life for you, Kubo." –Beetle
"Oh look at that. Literally the first time I have ever done that." –Beetle
"I wasn't a TOY. I was a charm." –Monkey
"Everything is turning black!" –Beetle
"Open your eyes." –Monkey
"Kubo is just a child." –Monkey
"A really powerful one." –Beetle
"Okay, now you two are being weird." –Kubo
"Down here there are always days worth fighting for." –Monkey
"Love made her week." –Aunt
"No it made ME stronger." –Monkey
"You must look more like your dad then." –Beetle
"If I am Beetle and you are Monkey, why isn't he just called Boy?" –Beetle
"You are my quest." –Hanso
"He doesn't hate you. He wants you just like him—blind to humanity." –Monkey
"Your story will live through him." –Beetle
"I think I slept on something, the sword uncomfortable." –Beetle
"I spy with my one eye.." –Kubo
"When we die, like Kubo's paper, we shift. The end of one story is merely the beginning of another." –Beetle
"You will be immortal. You will be infinite." –Grandfather
"If we hold our stories deep in our hearts, you will never take it away from us." –Kubo
"Your story will never end. It will be told by him and the people he shares with with and the people they share it with and.." –Beetle
Check out more of our Kubo stories:
Kubo & the Two Strings Travis Knight Interview & Arianne Sutner
Kubo & The Two Strings Stages, Scenes, and Environments (Dan Pascall & Oliver Jones and Steve Emerson)
Kubo & The Two Strings Puppets & Costumes (Deborah Cook, Georgina Haynes)
LAIKA'S New Technology – Kubo and the Two Strings
Kubo Press Junket Candy Art and MORE!
Kubo and the Two Strings IS NOW playing in theaters (August 19th)!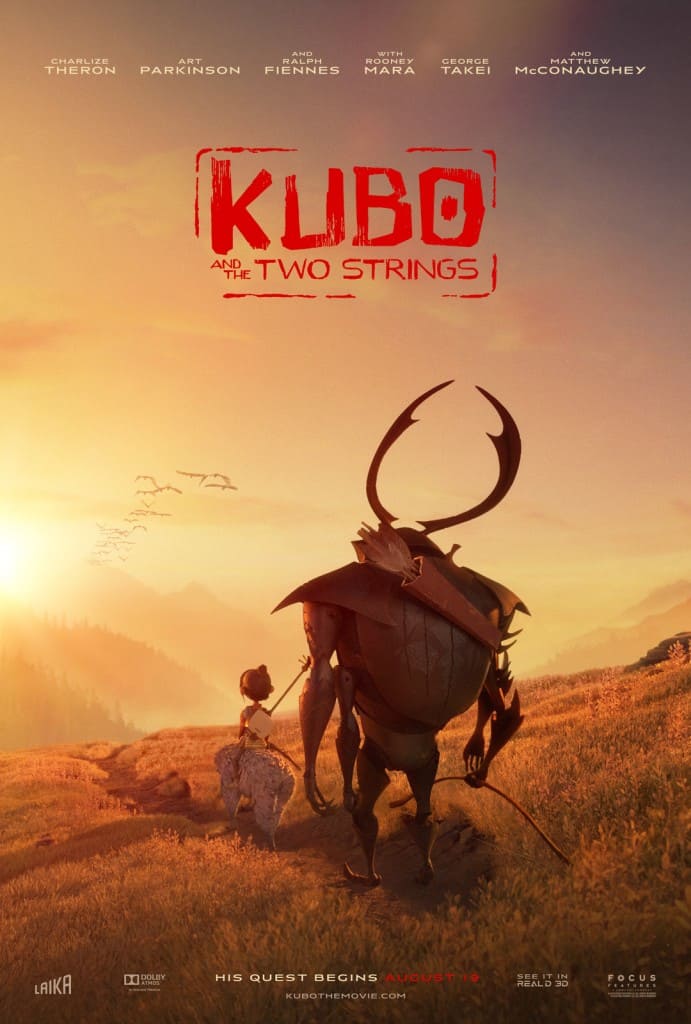 Kubo and the Two Strings is an epic action-adventure set in a fantastical Japan from acclaimed animation studio LAIKA. Clever, kindhearted Kubo (voiced by Art Parkinson of "Game of Thrones") ekes out a humble living, telling stories to the people of his seaside town including Hosato (George Takei), Akihiro (Cary-Hiroyuki Tagawa), and Kameyo (Academy Award nominee Brenda Vaccaro). But his relatively quiet existence is shattered when he accidentally summons a spirit from his past which storms down from the heavens to enforce an age-old vendetta. Now on the run, Kubo joins forces with Monkey (Academy Award winner Charlize Theron) and Beetle (Academy Award winner Matthew McConaughey), and sets out on a thrilling quest to save his family and solve the mystery of his fallen father, the greatest samurai warrior the world has ever known. With the help of his shamisen – a magical musical instrument – Kubo must battle gods and monsters, including the vengeful Moon King (Academy Award nominee Ralph Fiennes) and the evil twin Sisters (Academy Award nominee Rooney Mara), to unlock the secret of his legacy, reunite his family, and fulfill his heroic destiny.

Director: Travis Knight
Writers: Marc Haimes and Chris Butler ("ParaNorman")
Voice Cast: Art Parkinson, Charlize Theron, Ralph Fiennes, Rooney Mara, George Takei, Cary-Hiroyuki Tagawa, Brenda Vaccaro, and Matthew McConaughey
Watch the newest trailer below:
Read more Kubo stories on the blog soon!