The Kubo Movie Press Junket was filled with history and tradition from the Japanese Culture, Celebrity Interviews, and an early movie screening! I wanted to share with all of you some of the highlights from the press junket! It is hard to believe it was just a few weeks ago I experiences so much fun, culture, and entertainment all in one!
Kubo Movie Press Junket

Japanese Candy Art with Shan
It is called amezaiku. Shan takes molten candy syrup and transforms it into edible art! He has been doing it for 40 years and sometimes find himself eating the creations he makes.

He said when there is nothing to eat he wants to eat his candy art. This is his full-time career. I was lucky enough to take home a dragon.
Origami Art

Origami is a huge part of the new Kubo movie. Kubo brings Origami to life! This wouldn't have happened if the creators of the movie wouldn't have also studies this art.

At the press junket the Origami artist, Ben, displayed some of his amazing creations that consisted of thousands of folds!
Photo and Video Opp
If time permitted we had some of the stars of the movie in costume posing at the junket! There was also a video opportunity to be in your own Kubo scene!
The press junket was fun and did a great job and including culture and history! This is something that is important in the new Kubo movie!
COMING SOON! Interviews with the stars of the movie and a detailed movie review!
Check out my set visit stories:
Kubo & the Two Strings Travis Knight Interview & Arianne Sutner
Kubo & The Two Strings Stages, Scenes, and Environments (Dan Pascall & Oliver Jones and Steve Emerson)
Kubo & The Two Strings Puppets & Costumes (Deborah Cook, Georgina Haynes)
LAIKA'S New Technology – Kubo and the Two Strings
About Kubo and the Two Strings in theaters August 19, 2016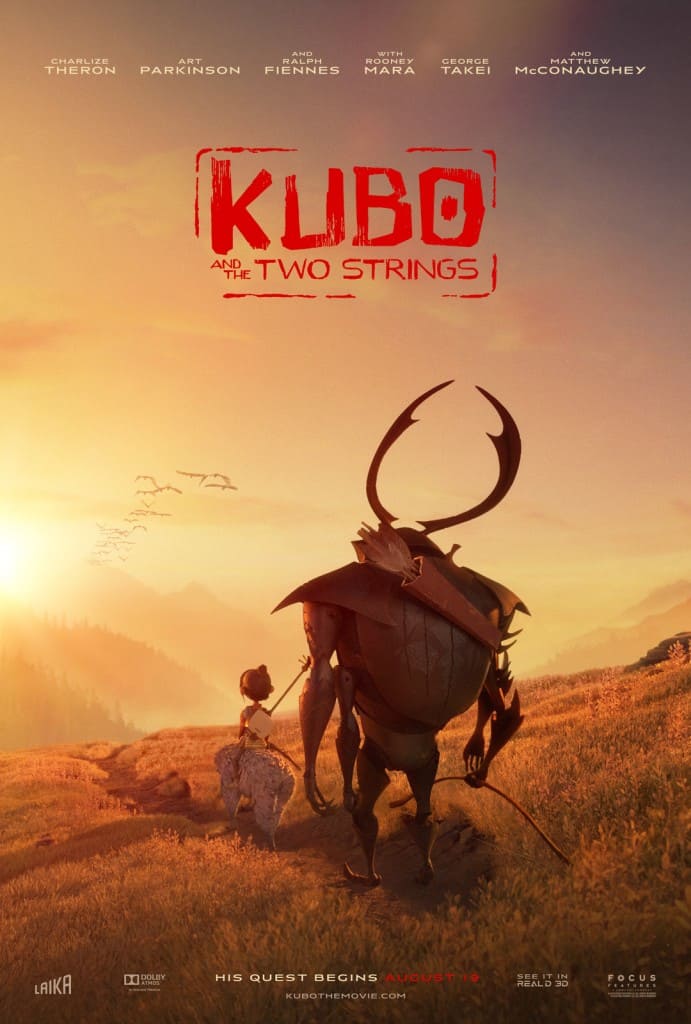 Kubo and the Two Strings is an epic action-adventure set in a fantastical Japan from acclaimed animation studio LAIKA. Clever, kindhearted Kubo (voiced by Art Parkinson of "Game of Thrones") ekes out a humble living, telling stories to the people of his seaside town including Hosato (George Takei), Akihiro (Cary-Hiroyuki Tagawa), and Kameyo (Academy Award nominee Brenda Vaccaro). But his relatively quiet existence is shattered when he accidentally summons a spirit from his past which storms down from the heavens to enforce an age-old vendetta. Now on the run, Kubo joins forces with Monkey (Academy Award winner Charlize Theron) and Beetle (Academy Award winner Matthew McConaughey), and sets out on a thrilling quest to save his family and solve the mystery of his fallen father, the greatest samurai warrior the world has ever known. With the help of his shamisen – a magical musical instrument – Kubo must battle gods and monsters, including the vengeful Moon King (Academy Award nominee Ralph Fiennes) and the evil twin Sisters (Academy Award nominee Rooney Mara), to unlock the secret of his legacy, reunite his family, and fulfill his heroic destiny.

Director: Travis Knight
Writers: Marc Haimes and Chris Butler ("ParaNorman")
Voice Cast: Art Parkinson, Charlize Theron, Ralph Fiennes, Rooney Mara, George Takei, Cary-Hiroyuki Tagawa, Brenda Vaccaro, and Matthew McConaughey
Watch the newest trailer below:
Read more Kubo stories on the blog soon!