Kubo and the Two Strings – The Conversations You MUST have with your kids before seeing this movie!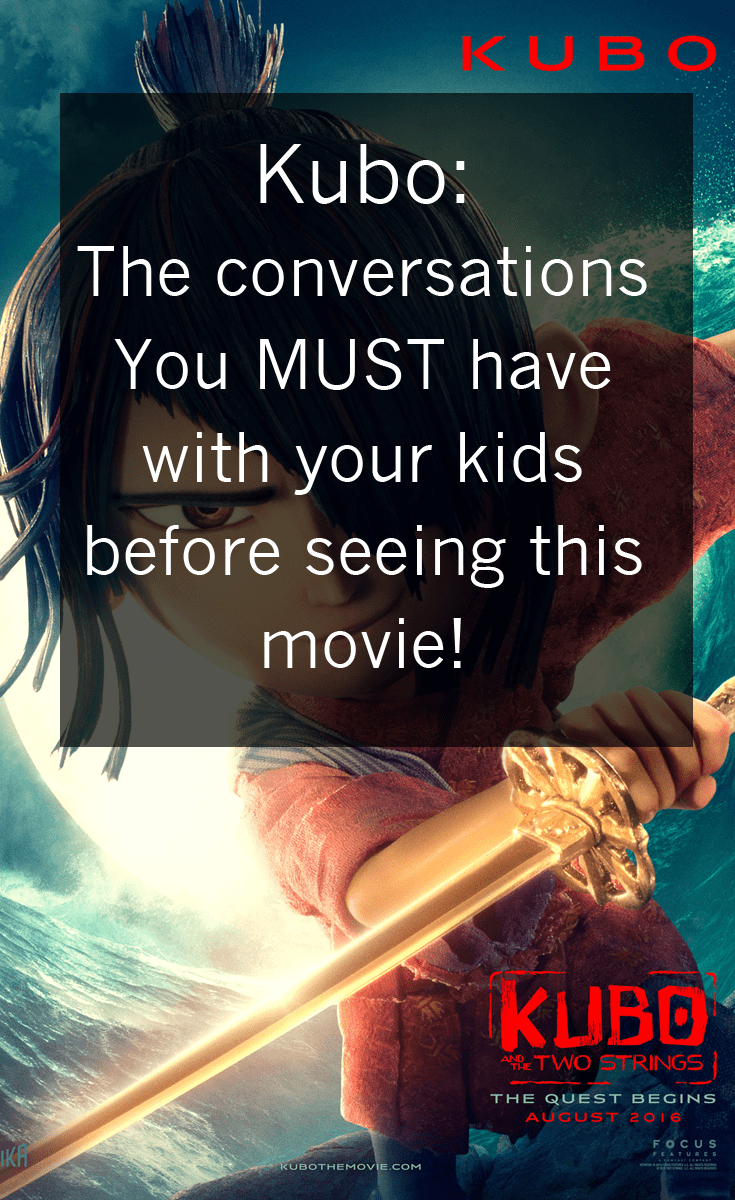 Talent and storytelling make a great movie. When you take your family to a movie and afterwards have a list of engaging content that really gets your family to have conversations and tough conversations you know a movie has done it's job.
There are tons of entertaining movies that have been created. Kubo and the Two Strings is an animated movie that has much more depth and requires much more deeper words than "entertaining".
LAIKA went were only a few films have been to challenge your thinking. They created this movie not just on what was going to make the most money but the ART in storytelling.
There are three main characters in the movie: Kubo, Monkey, and Beetle. The creators of these characters did an amazing job at really making you love each one of them for many different reasons. Their chemistry together was what also makes this movie "entertaining". There is much more to this movie than just being entertained. It is too deep for me to just say, "it was a great movie!"
Here are the list of conversations that I felt it encouraged me to want to have with my own husband and kids:
Family. I have been taught in my life that family always comes first. Family doesn't have to be related to you. Just because your family is related to you, doesn't make them "family". So for each family it will be different, but being able to have the conversation with my kids about how our friends and the people that are close to us that we love are "our family" is an important one to have. I encourage you to talk to you kids and ask them, "Who is in OUR family?" They will originally mention your direct family: mom, dad, siblings, and grandparents….but I encourage you to guide their conversation to think outside the box.
Death. Why do animated movies go in that direction? Why do they want to teach about death. Lion King went there…Dory went there…and many other movies have also gone there. If your kids have never experienced anyone close to them dying, consider yourself lucky. There is a time that they will have this experience in their lives and you are going to HAVE to teach them about how important memories are to our loved ones. Teach them this stuff NOW. Don't wait until you struggle to explain it yourself. This movie has a really strong message and you won't want to miss out on engaging with your family on this topic as well. Ask your kids to list their "family" and for each one of them have them share a favorite memory that they have had!
Story. Every person has his or her own story. Have your kids learn a way to tell their story. Have them share some answers to these questions:
Where are you from?
Who are those closest to you in your life?
What dreams do you have?
What are your own favorite memories?

Check out more of our Kubo stories:
Kubo & the Two Strings Travis Knight Interview & Arianne Sutner
Kubo & The Two Strings Stages, Scenes, and Environments (Dan Pascall & Oliver Jones and Steve Emerson)
Kubo & The Two Strings Puppets & Costumes (Deborah Cook, Georgina Haynes)
LAIKA'S New Technology – Kubo and the Two Strings
Kubo Press Junket Candy Art and MORE!
Kubo and the Two Strings IS NOW playing in theaters!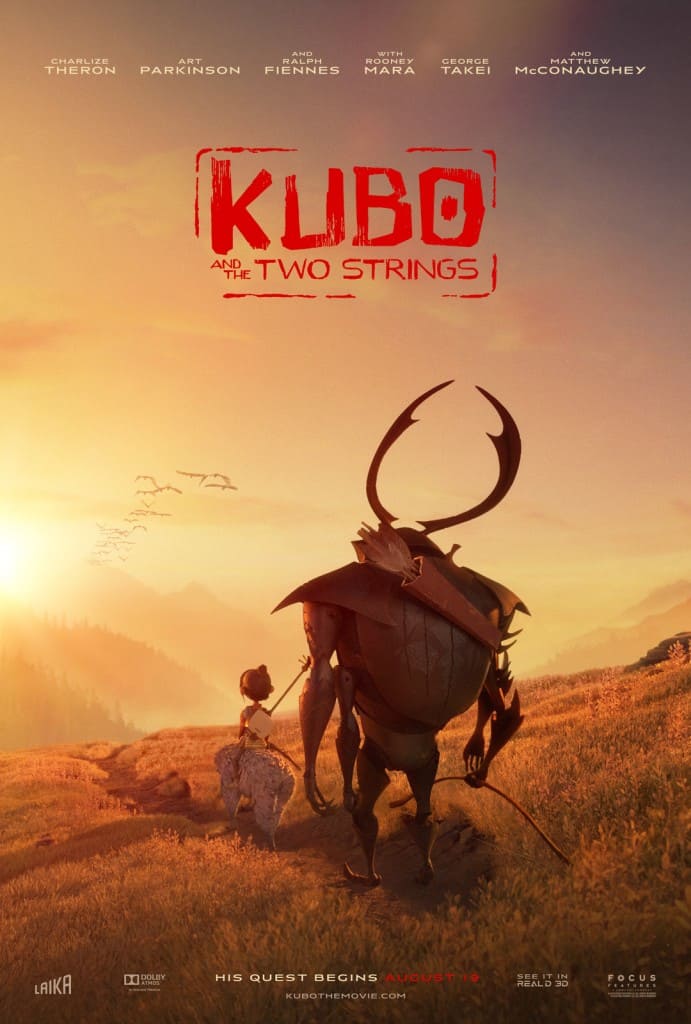 Kubo and the Two Strings is an epic action-adventure set in a fantastical Japan from acclaimed animation studio LAIKA. Clever, kindhearted Kubo (voiced by Art Parkinson of "Game of Thrones") ekes out a humble living, telling stories to the people of his seaside town including Hosato (George Takei), Akihiro (Cary-Hiroyuki Tagawa), and Kameyo (Academy Award nominee Brenda Vaccaro). But his relatively quiet existence is shattered when he accidentally summons a spirit from his past which storms down from the heavens to enforce an age-old vendetta. Now on the run, Kubo joins forces with Monkey (Academy Award winner Charlize Theron) and Beetle (Academy Award winner Matthew McConaughey), and sets out on a thrilling quest to save his family and solve the mystery of his fallen father, the greatest samurai warrior the world has ever known. With the help of his shamisen – a magical musical instrument – Kubo must battle gods and monsters, including the vengeful Moon King (Academy Award nominee Ralph Fiennes) and the evil twin Sisters (Academy Award nominee Rooney Mara), to unlock the secret of his legacy, reunite his family, and fulfill his heroic destiny.

Director: Travis Knight
Writers: Marc Haimes and Chris Butler ("ParaNorman")
Voice Cast: Art Parkinson, Charlize Theron, Ralph Fiennes, Rooney Mara, George Takei, Cary-Hiroyuki Tagawa, Brenda Vaccaro, and Matthew McConaughey
Watch the newest trailer below:
Read more Kubo stories on the blog soon!