After screening Kubo and the Two Strings, I was blessed to interview Matthew McConaughey who portrays Beetle, Charlize Theron, portraying Monkey, and Art Parkinson, voicing Kubo. This interview happened just a few weeks ago in LA at the Kubo and the Two Strings Press Junket!
One of my favorite things about this movie was the individual characters. Each character was so different, so dynamic, so deep, and filled with their very own great story!
Matthew McConaughey who plays Beetle is funny, witty, and talented.
Charlize Theron is loving, also funny, and protective of Kubo.
Kubo is young, smart, and powerful.
The three of them entered the press conference and cheers greeted them from us bloggers who were there to interview them! I wanted to share some of the highlights of the interview!
Kubo Interview with Matthew McConaughey, Charlize Theron, and Art Parkison
Question: Kubo stands out because it is a children's movie that takes really difficult subject matter and handles it in a really intelligent way. Was that something that drew you to the project?

MATTHEW MCCONAUGHEY: For me, I mean, that's something LAIKA seems to do with all their projects. They don't really pander down to the age group. They deal with adult themes in a way that's digestible for kids. There's always a good moral to the story, that's learned in the middle of the adventure. I liked their previous work and this script had all that – yeah.
CHARLIZE THERON: Yeah, I mean, for me, I in general love directness. I was raised with a lot of directness. And I think in storytelling we sometimes forget that with children, and there was something about this that was just so clear, and I love that. And I think, you know, as far as taste goes, I like that there's nothing about this that kind of shies away from very, very real issues and things and I think at the end of the day that makes it very powerful and refreshing because we don't see a lot of that. And so, yeah, I was very excited to be a part of that.

ART PARKINSON: I think it's a very family-oriented film. I think it's a very relatable family-oriented film because some of the problems that the family faces in the film is very relatable to every family. So I think that's definitely what drew me to the project.

CHARLIZE THERON: You have a mother that's a monkey?
ART PARKINSON: You never know.
MATTHEW MCCONAUGHEY: And a very goofy dad.
ART PARKINSON: Yeah.
Question: How did you prepare for the role?

MATTHEW MCCONAUGHEY: For me, this was my first animated voice I've ever done. I tried to get on quite a few other films but never got it. [LAUGHTER] And I'd just had children, so with three kids, a lot of my friends were like asking them, so what's your favorite movie your dad did? And they're like, well, we've never seen any of 'em." I haven't made any films in about 10 years that they could see. Yeah, sit down, guys, let's watch True Detective. So I was looking for something and I think they heard Travis and like I heard some interview I did on NPR, and they reached out after that and, what'd I do for preparation? I mean, I didn't try too hard to prepare for anything, it was there in the script and then I was listening to the guys….

CHARLIZE THERON: Yeah. I mean, very similar, you know. I've always joked that my kids would have to be 52 before they could see anything I've been in. So it's nice that that now has changed. Yeah, I mean, there was such a constant conversation, the process was so – it was really laid back and very relaxing and I loved it, you know, 'cause I had never done a voice either, other than to my son sometimes when I read and he would always say, "Don't do that!
You know, it's really kind of coming back to the core and the foundation of storytelling and they really were – Travis was really encouraging of keeping things very grounded and very real, and so I felt comfortable with that. I didn't know if that was how this process would be. I didn't know if there were things that kind of bled outside my comfort zone with this process, but you know, it's very much like any other movie I've done before. You're just trying to kind of look at the material and have that inform you.
ART PARKINSON: For every project I do, me and my mum do a lot of work together in post-production…looking over the script and reading over the script together…really studying the character and talking about the different ways that we can portray the character.
We later interviewed Travis Knight!  You can check out my original Set Interview!

Check out my set visit stories:
Kubo & the Two Strings Travis Knight Interview & Arianne Sutner
Kubo & The Two Strings Stages, Scenes, and Environments (Dan Pascall & Oliver Jones and Steve Emerson)
Kubo & The Two Strings Puppets & Costumes (Deborah Cook, Georgina Haynes)
LAIKA'S New Technology – Kubo and the Two Strings
Kubo Press Junket Candy Art and MORE!
About Kubo and the Two Strings in theaters August 19, 2016!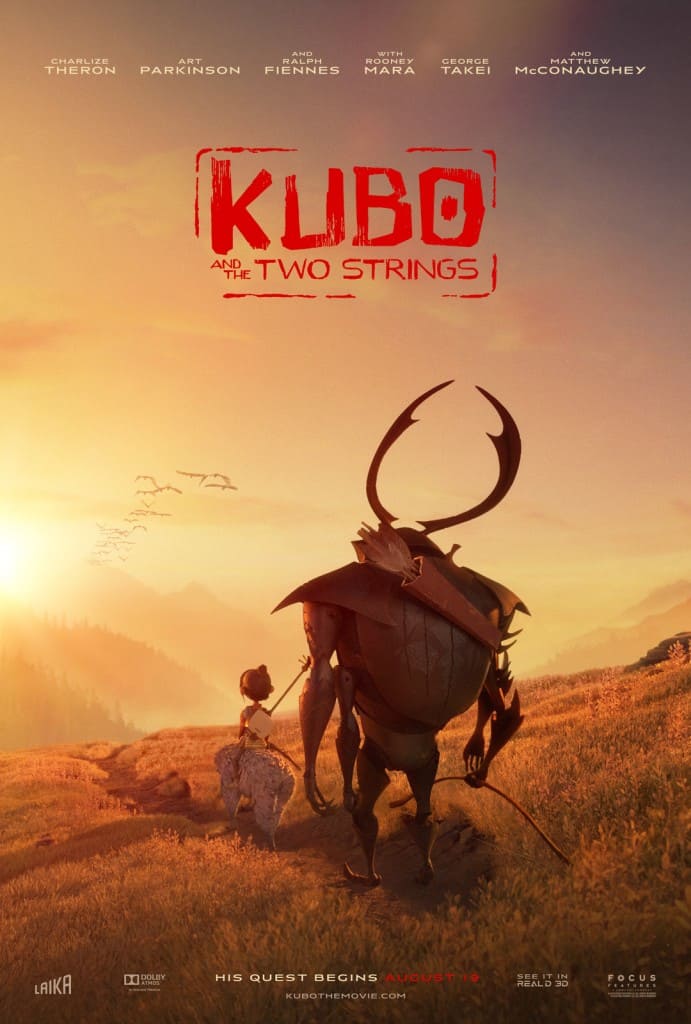 Kubo and the Two Strings is an epic action-adventure set in a fantastical Japan from acclaimed animation studio LAIKA. Clever, kindhearted Kubo (voiced by Art Parkinson of "Game of Thrones") ekes out a humble living, telling stories to the people of his seaside town including Hosato (George Takei), Akihiro (Cary-Hiroyuki Tagawa), and Kameyo (Academy Award nominee Brenda Vaccaro). But his relatively quiet existence is shattered when he accidentally summons a spirit from his past which storms down from the heavens to enforce an age-old vendetta. Now on the run, Kubo joins forces with Monkey (Academy Award winner Charlize Theron) and Beetle (Academy Award winner Matthew McConaughey), and sets out on a thrilling quest to save his family and solve the mystery of his fallen father, the greatest samurai warrior the world has ever known. With the help of his shamisen – a magical musical instrument – Kubo must battle gods and monsters, including the vengeful Moon King (Academy Award nominee Ralph Fiennes) and the evil twin Sisters (Academy Award nominee Rooney Mara), to unlock the secret of his legacy, reunite his family, and fulfill his heroic destiny.

Director: Travis Knight
Writers: Marc Haimes and Chris Butler ("ParaNorman")
Voice Cast: Art Parkinson, Charlize Theron, Ralph Fiennes, Rooney Mara, George Takei, Cary-Hiroyuki Tagawa, Brenda Vaccaro, and Matthew McConaughey
Watch the newest trailer below:
Read more Kubo stories on the blog soon!